Sony looks set to challenge Apple with the revival of the Xperia Compact line of smartphones, which would go head-to-head with the iPhone 12 Mini.
It goes without saying that Apple produces some of the very best camera phones on the market, and the relaunch of the Mini series in the form of the iPhone 12 Mini was met with enthusiasm last year. And according to a new leak, Sony is planning to jump on the bandwagon for smaller form factor phones with a new version of the Sony Xperia Compact.
Images and information have been posted online depicting the "upcoming and quite blocky looking" new phone, which features a dual camera array on the rear with a primary 13MP camera, and a front-facing 8MP selfie camera.
For comparison, the iPhone 12 Mini packs a trio of 12MP cameras, one on the front for selfies, with a wide-angle and telephoto on the rear.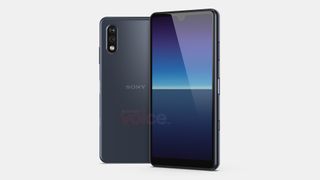 The Sony Xperia Compact measures 140 x 68.9 x 8.9mm and packs a 5.5-inch screen, making it notably larger than the iPhone 12 Mini's 131.5 x 64.2 x 7.4mm dimensions and 5.4-inch display. As described by well-known leaker OnLeaks, who posted the information, "the new phone's flat display is surrounded by thick bezels and a huge chin."
After falling out of favor in recent years, it seemed that Apple might re-invigorate interest in the 5(ish)-inch phone market again – and it certainly seems that Sony agrees. However, the market realities might not quite match the initial enthusiasm that greeted the Apple launch.
"Last month, an executive at one Apple supplier told Nikkei that iPhone 12 mini production was a bit sluggish," wrote OnLeaks. "More recently, a Consumer Intelligence Research Partners report claimed that sales of the iPhone 12 Mini likely disappointed Apple with only 6% of total iPhone 12 Series sales during the October through November period.
"Since then, it is rumored that weak iPhone 12 Mini sales has forced Apple suppliers to cut production. Consequently, while some of you will be happy to learn a new Compact Xperia phone is coming soon, I wonder if Sony hasn't waited too long and missed the boat…"
Read more:
Best iPhone for photography
iPhone 12 Mini review
iPhone 12 vs iPhone 12 Pro
iPhone 12 Pro review
iPhone 12 Pro Max review