Apple announced the iMac M3 on October 30 2023, and it is one of the first machines to gain a new M3 chip (alongside the new 14-inch and 16-inch MacBook Pro laptops).
The iMac has been one of best desktop computers for photo editing for some while, not least because it comes with an excellent built-in screen. The new M3 processor supports up to 24MB of memory (up from 16MB) and boasts GPU improvements over the existing iMac M1, but just how much better is this all-new iMac?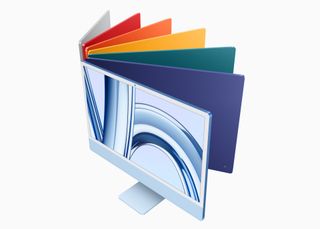 iMac M3 Key Specs
Processor: M3
Memory: 8GB / 16GB / 24GB
Storage: 256GB / 512GB / 1TB / 2TB
Screen: 24-inch 4.5K Retina display
Ports: 2x Thunderbot + 2x USB-4 (C-style)
Connectivity: Wi-Fi 6E (up from 6)
Built-in camera: 1080P
Apple says that the new M3 processor is up to twice as fast as the M1, but in practice productivity apps like the Safari web browser or Microsoft Excel will run at a less striking 30% faster – meaning that, as a mere speed improvement, it probably isn't worth rushing out to buy the new machine. It's a nice bump, because Apple didn't bother putting the M2 chip in the iMac line, but for most users I doubt it'll be cause to shop.
For some specific cases, though, the new version of the Apple Silicon has hardware acceleration – specifically gaming, where the GPU section of the chip now boasts ray-tracing for much better frame rates. Apple also estimates that Photoshop should handle a 100MP file at about double the speed of the M1 generation iMac.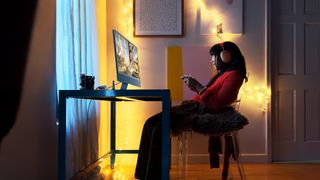 If you're looking for physical change, you won't find it either. The hardware looks identical, though the stand is now 100% recycled aluminum. The built-in 4.5K screen retains the same 500 excellent nits and 4.5K resolution, good for the 24-inch size but we'd still love to see a 27-inch offering. (I myself still have a 27-inch iMac from the Intel era with a 5K screen, and I live in hope!)
Less visibly the Wi-Fi gets a bump from 6 to 6E, a system that creates a 'fast lane' using 6GHz frequencies to provide more channels (and so, in theory, support more devices without interference). If you have or plan to upgrade your router, this is a nice benefit. Gigabit ethernet is, as before, an option that needs to be specified at purchase, and connects via the power brick rather than the machine itself.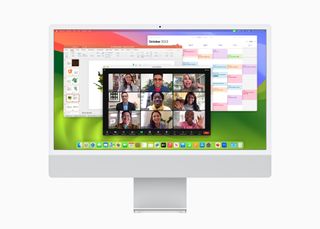 So, in short, should you buy the iMac M3? Well, since there is no significant change in pricing, if you were considering the iMac M1 there is no reason not to switch up and enjoy the advantage. We ranked it as one of the best computers for photo editing, and it is very likely that the newer version to be the same.
Better yet, the pleasures of all-in-one computers have a little more flexibility since if you are feeling spendy you can spec up and get a little more memory. The only disappointment for fans of tidy work areas is that you still can't opt to get as much screen size as the last Intel-era iMacs (which were sold in two sizes, 21.5 and 27-inch). That is a shame, but the 24-inch screen does have nearly as many pixels as the old 27-inch so it's still great to work with.
The new iMac will ship from November 07, and Apple has them up for pre-order, with prices starting at $1,299 / £1,399 (Australian pricing TBC). In the meantime, if you're not too power-hungry and don't put too much pressure on your Wi-Fi, now might be a good time to start looking at discounted M1 models!
For those less excited by tidy desktops, look at the best MacBooks for photo editing and plan to add one of the best monitors for photo editing or the best monitors for video editing.