Amazon strikes again with another of its Prime Day Big Deals, this time with the Panasonic Lumix S5 lens kit. The limited-time deal includes a combination of the Lumix S5, S 20-60mm F3.5-5.6 lens, and the S 85mm f1.8 prime.
This camera and lens kit is currently on offer for $1,699.99, saving you almost $1,000! Hurry, this deal may well not be around for long!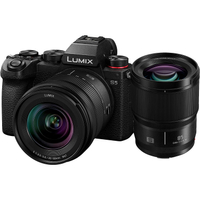 Panasonic Lumix S5 + 20-60mm + 50mm f/1.8|$2,695.98|$1,699.99
SAVE £995.99 – Amazon Prime Deal This is an unreal twin-lens deal on the OG full-frame S5! The 24.2MP sensor can record 4K 4:2:2 10-bit 30p, 4:2:0 10-bit 60p or unlimited 4:2:0 8-bit 30p. This kit also comes with an S 80mm f/1.8 lens and an S 20-60mm f/3.5-5.6 zoom, perfect to get you started on your videography journey!
The Panasonic Lumix S5 has a 24.2-megapixel 35mm full-frame CMOS sensor and is considered a pioneer of mirrorless hybrid cameras. The S5 has the capability to shoot 4K 60p/50p 4:2:0 10-bit, and 4K 30p/25p 4:2:2 10-bit internal recording which is ideal for videography. The ability to combine the 5-axis in-body stabilization in the camera with optical IS in the LUMIX S Series lenses, provides smooth footage in the most challenging of conditions.
The included lenses in this kit are perfect for both stills and video. The L-mount S 20-60mm f/3.5-5.6 lens allows for flexible shooting and the S 80mm f/1.8 is a powerful stills lens, especially for portraiture.
See our article on the best Panasonic cameras and check out the best L-mount lenses