We post a lot about film photography and how the rising costs are putting some photographers off. People who once solely shot film are turning to digital to bring costs down, but there is another way that some photographers are coping with the additional expense: by shooting with half-frame cameras.
Half-frame cameras, also known as single- or split-frame cameras, are nothing new, but they seem to have made a bit of a comeback recently since Kodak released the Ektar H35 in 2022 - and an updated Ektar 35N due to go on sale imminently.
When they were first introduced in the 1960s with the Olympus PEN series, half-frame cameras were an economically viable solution for photographers looking to double the amount of shots they could get out of a single roll of film. Rather than producing the standard 36 exposures, half-frame cameras enable you to shoot 72 images with each pair forming a diptych.
• Check out the best film for 35mm cameras and browse black-and-white, and color film from Kodak, Ilford, Fujifilm and more
For professional film photographers who worked commercially, half-frame cameras had their drawbacks. Not only were you limited to shooting in portrait orientation, so that you could fit two 3:2 images on a single 35mm frame, but the quality of each photo was also reduced. While hobbyists or amateur photographers could get away with the limitations of shooting half-frame, it still remains a niche area of film photography that some people find too restricting.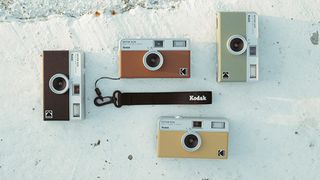 However, the launch of modern half-frame film cameras such as the Ektar H35 has proven popular among the Instagram generation. For people who are looking for a film camera to capture holiday snaps or memories with friends (in other words, images that won't be used professionally) they offer a more creative way of presenting images – and the aspect ratio of the portrait orientation image is much better suited for Instagram.
Demand for film and film cameras has skyrocketed in the last few years. Whereas in days gone by you could pick up a roll of film for around $5 / £5, an average roll of film these days (depending on the brand and film speed) could set you back anywhere between $/£10 - 20 on Amazon! (Kodak Portra 400 is currently $22.80 / £22.99. Take development costs into account as well, and you're looking at almost $/£1 per shot. Suddenly, doubling your content seems like an appealing option.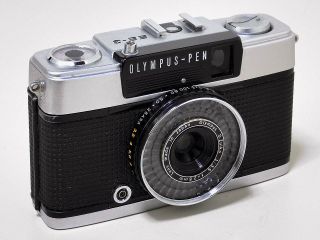 You could argue that there is no point in investing in a half-frame camera if you're doing it to save money. After all, a camera phone, mirrorless camera or DSLR can take an unlimited number of photos that cost nothing (after your initial investment). In post-production, using either Lightroom or Photoshop, you can apply light and color settings that will make your digital images look like film photographs, and you can even go one step further by adding film grain or light leak overlays to give an even more authentic feel.
But the magic of film doesn't just like its unique aesthetic and its imperfections; the magic lies in the mystery of not knowing how well a shot turned out, or what was even on that particular roll until you get it back. With half-frame cameras especially, there is a certain excitement in discovering whether two images you shot side-by-side work together. And for people who love producing diptychs anyway, it gives you more to think about in terms of composition, connection and contrast between two photos.
Check out the best retro cameras – digital cameras that look like analog classics from the past