Say goodbye to the Pentax 10-17mm F3.5-4.5 fisheye lens and hello to the HD-Pentax DA fisheye 10-17mm F3.5-4.5 ED. Ricoh has announced refreshed version of its affordable fisheye zoom for APS-C K-mount cameras.
When mounted on an APS-C body, it provides an equivalent focal range of 15-25.5mm, and boasts a 180-degree field of view at its wide end. The main differences to the lens include the application of the multi-layered HD coatings we see as standard on modern Pentax lenses. These, according to Ricoh, will greatly reduce flare and ghosting in order to produce impeccably sharp, high-contrast images.
A Super Protect (SP) coating has also been added to the front element in order to repel dirt and grease, ensuring the lens is well-suited for outdoor work and making it easy to quickly wipe off stains or fingerprints.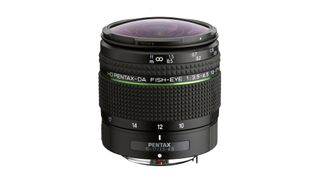 The other main change from the previous lens is that the lens barrel has been redesigned to bring it more in line with contemporary Pentax lenses, with updated grip patterns on the zoom and focusing rings, and a new removable lens hood. According to Ricoh, when the new lens is mounted on a Pentax K-1 or K-1 Mark II it'll produce near-circular fisheye images, opening up some real creative possibilities.
There are other interesting features on board as well. The HD-Pentax DA fisheye 10-17mm F3.5-4.5 ED has a minimum focusing distance of 14cm and also offers a Quick-Shift Focus System, which allows the user to quickly swap to manual focus for fine-tuning once a subject has been acquired with AF. It also has a six-bladed diaphragm.
The HD-Pentax DA fisheye 10-17mm F3.5-4.5 ED will be available from the end of July, priced at £499.99 in the UK and $499.95 in the US.
Read more: