Update: Panasonic has now announced its 6K Lumix S1H cinema camera - and has additionally launched a significant firmware upgrade for the Lumix S1. Read our full report from the Cine Gear press conference



Panasonic has begun teasing that it has a big announcement next week - and we have been trying to guess what this might be. A new cinema-centric sibling to the S1 and S1R? A successors to the GH5 and GH5S - the GH6 and GH6S? Or something else?
What we know is that Panasonic has started a countdown to its press conference at the Cine Gear exhibition that opens in Los Angeles on Friday 31 May. And Panasonic have said that this will be a big news for the Lumix mirrorless family of cameras. And as this international trade show takes place at the Paramount Studios in Hollywood, and is aimed at cinematographers and filmmakers, this makes it pretty certain that this will be something that is aimed at high-end video shooters.
Putting the information that we have been given there seem to be three possible things that Panasonic will launch at this event. Here are the possibilities:
Panasonic's Instagram teaser about the imminent Lumix announcement
1) Panasonic Lumix S1S
Panasonic's full-frame mirrorless Lumix S1 and S1R have recently gone on sale - offering two versions of the same high-end camera, both aimed at stills and video shooters, and both using the new L-mount lens system Panasonic has developed alongside Sigma and Leica.
However, although both these cameras offer 4K shooting, they both offer imperfect solutions for the serious filmmaker - thanks to limits on the length of video that can be recorded in one take, and in terms of the crop that the camera applies when shooting 4K.
A third version of the camera that is designed specifically for videomakers therefore would be very welcome to the Cine Gear audience. The rumor mill reckons that this would be called the S1S (using the same suffix convention as used by the Sony A7 family - where cameras ending in R are the high-resolution ones, and those ending in S are optimised for videography).
A key question will be - does this shoot 4K or 8K? The 4K option seems the most likely. However, we know that Panasonic is heavily invested in 8K in its television and broadcast business, and that there are going to be lots of 8K announcements over the next year in the lead up to the 2020 Olympics in Tokyo.
One rumor is that that Panasonic will go somewhere between the two - and offer up a Cinema Lumix camera that shoots 6K (with a resolution approximately 6000x4000 pixels.
2) Panasonic Lumix GH6 or GH6S
The Panasonic Lumix GH5S and GH5 has been a popular choice amongst videographers. These Micro Four Thirds cameras differ in the sensor resolution - the GH5 offers a 20MP sensor suitable for stills and 4K video, and the GH5S with its 10MP sensor is aimed solely and moviemakers.
The GH5 was launched in 2017, and the GH5S in early 2018, so an update to this series is likely.
The key question again would a Lumix GH6 or GH6S shoot 4K or 8K? In this case, the 8K may be a better bet – because the highly-anticipated Sharp 8K camera will use a Micro Four Thirds sensor (and lens mount). With 8K tech already in the works for 8K, it would seem unlikely for Panasonic not to want to at least keep up with what Sharp has in store.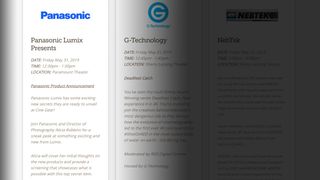 3) Firmware update
The least exciting option of our three would be that Panasonic is simply going to add better video functionality to one or more of its Lumix cameras through a firmware update. Updating the 4K shooting capabilities of the full-frame S1 and S1R would be our best guess here.
Read more:
• What is 8K? And what does it mean to photographers and videographers?
• Best 4K camera for filmmaking in 2019