Panasonic has put itself in early contention to steal the show at CES, by creating something that can only be described as the Holodeck from Star Trek.
Announced at CES 2021, Panasonic revealed that it has partnered with Illuminarium Experiences to provide immersive, virtual attractions that take you to places you've never seen or dreamed of before.
Ever wanted to go on safari but hate air travel, don't have the money and really don't want to get eaten by a lion? The first 360-degree attraction from Panasonic and Illuminarium will be Wild: A Safari Experience – the world's first virtual safari.
"Illuminarium Experiences is real life like you've never seen it before," states the official website. "From earth's natural wonders to cultural moments and beyond, Illuminarium democratizes the world's most extraordinary experiences."
"From the majestic plains of Masai Mara to the great herds of Kruger National Park to the verdant watering holes of Samburu Reserve, Wild will transport visitors across the African continent in the world's first virtual safari."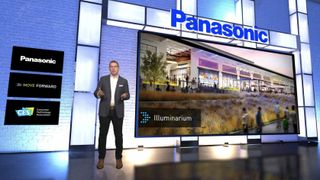 "I am incredibly pleased to announce today that Panasonic is the official technology partner of Illuminarium Experiences," said CEO Michael Moskowitz. Our native 4k projectors, professional displays and cameras will bring their new 360-degree immersive entertainment centers to life, to transport and inspire audiences.
"The first Illuminarium will open in Atlanta, and be 30,000 square feet, featuring Wild – the world's first virtual safari. Our engineers collaborated and created an ultra short-throw lens with minimal offset and loss of light exclusively for this experience. It promises to be one that has never been seen before."
The second Illuminarium is set to open in Miami in Winter 2021, followed by a third venue in Las Vegas in summer 2022.
"As a company we're built for moments like this," concluded Moskowitz. "Combining generations of innovation and category expertise with a culture that is driven to make the world a better place."
Read more:
Best Panasonic cameras
Best L-mount lenses
Best projector for video