Opal has released what they're calling "a new species of webcam," the Tadpole, designed to clip onto the top of a laptop yet provide mirrorless camera quality. That's quite a promise, and one which might hold a lot of appeal for creatives making do with the built-in cameras on modern laptops.
The device is all about portability, with even its corded cable serving as a kind of carrying strap at the same time, with a bead on it that can be pulled to keep a safe grip. The camera itself is a 35mm square clip shape, with the lens projecting from the front and looks ultra-stylish (so it should go with all those MacBooks with crummy cameras).
There is also what Opal is calling a "category first" directional mic as part of a two-mic array (one-directional, one omnidirectional) which, they say, is inspired by insect auditory systems.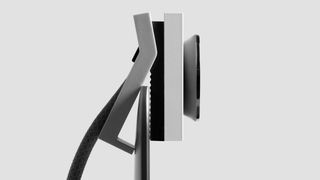 At the computer end of the cable (USB-C, naturally), a touch-sensitive button with a concealed indicator light lets you mute the mic without trying to find the right icon on screen.
The video output is 1080P at 30fps – not the 4K you might have imagined for a premium device – but it is binned from a 12.7mm 48-megapixel Sony IMX582 Exmor RS sensor, so it is not short of detail. My take on that is the use case is more about good-quality video calls on the go than reaching broadcast quality, in which case very few feeds would end up being 4K. The camera is f/1.8 with a 70-degree field of view and autofocus which, in itself, is often a step up versus built-in cams.
Materials choice, however, is where the real premium starts to show – the painted aluminium (offered in black or white) with silicone rubber clip and glass lens cover. The camera weights 35g, with the strap/cable adding another 10g (total 1.6oz).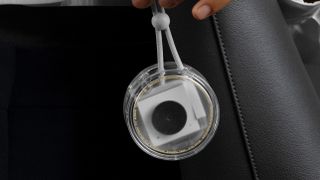 None of this comes cheap, though. The camera costs $175 and is available for order now, though shipping might take a few weeks.
We have an early model in for review, so we'll be letting you know exactly how good the picture is soon, but I can reveal that the DCW team's first impressions when I used it this morning – instead of my MacBook's built-in camera – were positive.
The Tadpole is expected to ship during December, but if you can't wait that long, perhaps check our list of the best webcams or the best Mac webcams.