It is still a while to wait until Black Friday, and the Amazon Prime Big Deals Days two-day sale has just started - but not all the best deals are at Amazon. We have spotted this great DSLR deal at Walmart.
The Canon EOS Rebel T100 has always been a brilliant beginner bargain. The 18MP DSLR is a great entry-level camera, particularly paired with the EF-S 18-55mm lens – and there's never been a better time to pick one up, as it's currently just $333.99 at Walmart!
With budget DSLRs being more and more difficult to find in stores, this makes this a great option for someone looking for their first camera for starting out a course in photography - or someone who wants to start taking pictures seriously as a hobby. And at this cost, it could even make someone a nice gift!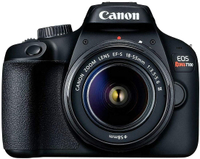 The Canon EOS 4000D pares back all the extraneous extras to make this the most straightforward camera possible for those starting their photographic journey – but it packs plenty of punch to make sure that your images and videos still hold their own!
The 18MP APS-C sensor supports 1080p FullHD video recording, and the camera features a 2.7-inch LCD screen with a respectable 920k-dot resolution.
This bundle includes the versatile Canon EF-S 18-55mm f/3.5-5.6 III lens (an equivalent 29-88mm focal range in full-frame terms), which covers you for wider-angle shooting through to portraits.