Despite everyone in the industry jumping to the conclusion that it would, Canon has confirmed that it is not in fact going to kill off its EOS M series of mirrorless cameras. And the reason is simple: Canon sells too many of them.
Ever since the launch of the original Canon EOS R and the dawn of the new RF mount in 2018, there has been speculation that the manufacturer would sunset its existing line of entry and mid-range EOS M mirrorless cameras. And when the Canon EOS R50 launched in February, looking like a direct replacement for the Canon EOS M50 Mark II, everyone figured that sunset had arrived.
• These are the best Canon cameras, from DSLRs to EOS R and compacts to EOS M
Turns out that golden hour is going to last a while longer, because Canon says that the EOS M line is here to stay. For now, at least.
Tetsuji Kiyomi, division manager of Imaging Communications Business in charge of Products, was asked by Photo Trend whether the R50 spelled doom for the EOS M series of cameras.
"The particularity of the R50 was that we wanted to release a compact and light product," said Kiyomi. "For its part, the EOS M range, thanks to the reduced diameter of the EF-M mount, could be even smaller and lighter.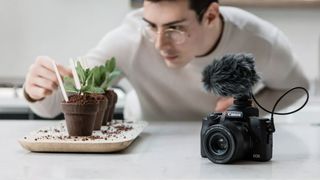 "Thus, compactness and lightness are therefore two common points between the APS-C models of the EOS R range and those of the EOS M series.
"However, the size of the M-series enclosures is even smaller, and there is still a strong demand for this from our customers. This means that we will continue to offer the EOS M series as we need to meet this high demand."
While the EOS M line isn't at the front of the industry's consciousness in the west, with the Canon EOS M50 chiefly finding an audience among the vlogging and hybrid community, in the east it's a product line that does gigantic business. Indeed, the M50 has consistently Canon's best-selling camera in Asian territories for years.
As compact as the new R50 is, the M50 – by virtue of the best Canon EF-M lenses, which use a smaller lens mount – are even more compact, as Kiyomi says.
Does this mean we'll actually get new EOS M cameras and lenses, though? We certainly hope so.
If you enjoyed this article, you might like to read more about the best travel cameras and best cameras for street photography, where the EOS M line really comes into its own.