Rumors suggest that the Samsung Galaxy Z Fold 6 may not get a camera upgrade at all, sticking with the same cameras as its predecessor, the Samsung Galaxy Z Fold 5.
In fact that would be two generations without a change, since the Galaxy Z Fold 4 before that also sported the same camera, although both previous phones did make it into our guides to the best Android phones and the best fold phones.
Samsung equips the current Z Fold 5 with a 50MP main camera, a 12MP ultrawide camera, a 10MP 3x telephoto camera, a 10MP outer selfie camera, and a 4MP inner under-display selfie camera. This on, paper seems, to be a substantial list of specs for a phone, but its biggest fold phone competitors – the Google Pixel Fold and OnePlus Open – now provide much higher quality.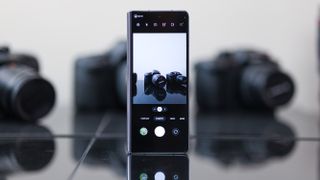 Samsung may have decided against an upgrade to the camera, perhaps focusing efforts elsewhere. It has become a modern preference for a phone model to be updated every year, but it is unnecessary to upgrade the camera each time. Instead, manufacturers often focus on different aspects of the design or software of the phone. So where we may not see an update to the phone's camera, you can be confident that there will be upgrades elsewhere.
Reports suggest that there may instead be an update to the form of the phone. "Specifically with a wider front display, along with dust protection to accompany the current IPX8 water resistance rating," according to a recent article by Tom's Guide. "We may even get an all-new 'Lite' model that'll be a more affordable option than the $1,800 full-fat Z Fold."
Nothing official has been announced and this is all just speculation and rumors, although from some credible sources. We are expected to see the launch of the Galaxy Z Fold 6 next summer, with the Galaxy Z Flip 6 to arrive alongside it. We will have to wait until nearer the time to see if these rumors are confirmed.
See our articles on the best Android phones, the best smartphone gimbals, and the best wireless chargers for more information on smartphones.