The OnePlus Open is official, launching in the US, UK, and other markets with a triple-camera system and Hasselblad co-branding. It's OnePlus's first foldable, and it packs the most exciting camera of any folding phone we've used, with Sony's new stacked pixel sensor tech, a 70mm equivalent periscope system, and a high-resolution ultra-wide camera with autofocus.
If you're wondering what makes the Open a Hasselblad phone, the iconic camera brand had a hand in the phone's Portrait, Pro, and XPan modes.
Available in two colors, Black (vegan leather back) and Emerald Green (glass back), the Black version weighs 239g, while the green option weighs 245g making the green option just 5g heavier than an iPhone 14 Pro Max. Only the Emerald Green OnePlus Open is coming to Europe, while both the black and green options will launch in the US.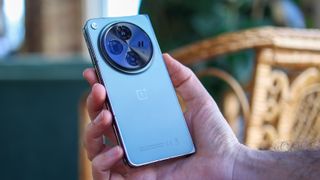 OnePlus Open price and availability
Foldables are expensive, so while the OnePlus Open's $1,699 / £1,599 / €1,799 price might sound astronomically high, compared to Samsung's Galaxy Z Fold 5 and Google's Pixel Fold, it's actually cheaper.
If you want to pick up the OnePlus Open, it's available from October 26 from OnePlus directly, with pre-orders running from October 20.
OnePlus has some enticing after-sales support offerings to woo potential buyers: free inner display screen protector replacements for the warranty duration, four years of software updates, and five years of security updates.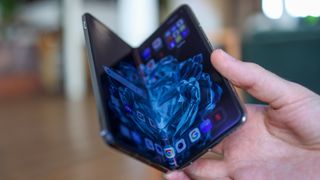 OnePlus Open camera specs
The big thing about the OnePlus Open is its camera. No, really, it's a big thing. While the phone's frame and most of its body are relatively skinny – 5.8mm when unfolded – the camera bump appears to almost double that thickness. We're not grumbling at the fact, though, as this bump is likely why the OnePlus Open looks like it could be the best foldable camera phone around.
There are three cameras around the back of the phone, and all three capture with a high resolution, relatively large sensors, and wide apertures. Going into a bit more detail, the wide sensor is a Sony LYTIA-T808, a 52MP 4.3:3 stacked pixel sensor.
The T808 sensor is interesting because it actually uses a 48MP area, and the rest to stabilize video (based on what we know about Sony's Xperia 1 V, which debuted the technology).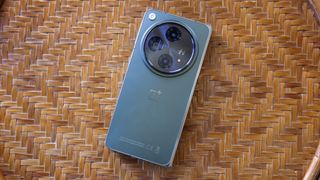 According to OnePlus, its stacked pixel structure means each pixel element is split across two layers. The photodiodes, which convert light to electrical signals, have more space to receive information, curb noise, and create detail.
While the OnePlus Open has a 1/1.35" wide camera sensor, which is about 20 percent larger than the primary sensor of Samsung's Z Fold 5, this doesn't account for the 4:3 crop that takes place, making the usable 48MP part of the sensor a bit smaller. This means we're a way off seeing a 1-inch sensor on a foldable, but OnePlus claims the Open should deliver a similar dynamic range to the 1-inch Sony IMX989 sensor, as found in the Xiaomi 13 Ultra.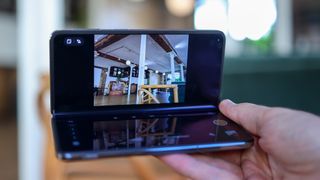 The ultra-wide and telephoto cameras also look powerful, especially for a folding phone. The 14mm lens has autofocus, which is missing from most folding phone ultra-wides, an f/2.2 lens, a 4cm nearest focus distance, and a 1/2" 48MP sensor.
The 3x periscope camera has a 1/2" sensor for zoomed-in shots, marrying it with an f/2.6 aperture lens, OIS, and a 64MP high resolution. While the OnePlus Open's zoom won't reach as far as the Pixel Fold's, for example, its on-paper specs are superior, and in early testing, it captures a great amount of detail with a seriously pleasing shallow depth.
Here are a few sample photos we took on the OnePlus Open when we got a hands-on with the device ahead of our full review:
OnePlus Open additional features
The OnePlus Open looks like a flagship in every respect, bar one: it doesn't have wireless charging. If you can get past that, you won't find any standout chinks in its spec sheet.
Powered by a Qualcomm Snapdragon 8 Gen 2 chipset with a massive 16GB RAM and 512GB storage, performance should be superb, and there's loads of space, too.
While there's no wireless charging, the phone does power up at a fast 67W, so according to OnePlus, it fills up from 0-100 percent in 42 minutes, and there's a 4800mAh battery inside.
Perhaps the most exciting aspect of the OnePlus Open other than its camera, is Open Canvas and its user interface in general. While many foldables like the Honor Magic Vs offer up the same core interface for their big, unfolded screens as for the phone-sized cover screen, OnePlus totally overhauls its big-screen experience.
As you can see in the photos below, there's a taskbar, which has become something of a 101 in good foldable experiences. The Open also supports split-screen or full-screen multi-tasking across three apps, docking unused apps off-screen, for easy tapping into view.
On first impression, Open Canvas looks like a fantastic solution to the challenge of optimizing an interface for foldables.
As for the screens, the cover display is a familiar 20:9 aspect ratio – no Samsung Galaxy Z Fold 5 cramped typing here – and at 6.3 inches, it's a relatively comfortable size. With a large 7.8-inch unfolded display, the OnePlus Open's unfolded view is a bit more expansive than that of Samsung and Google's, with both featuring 7.6-inch screens.
OnePlus also makes bold claims regarding brightness, with a peak brightness of 2,800 nits and a max brightness of 1,400 nits in high brightness mode, and both screens look crisp and vibrant in the flesh.
While you can't dunk the OnePlus Open in water, it is IPX4 splash-resistant, and it's the only foldable that's tested to withstand a million folds and still work. It's also worth noting that its unfolded screen has the least visible crease of any foldable we've used on first impression, though we'll need to get the phone in to see if that holds true after real-world use.
OnePlus Open early verdict
The OnePlus Open looks like the foldable shake-up camera fans have been waiting for. There's no getting around the fact that great camera hardware takes up space, so seeing OnePlus carve out a ton of space for the cameras while making the rest of the phone relatively thin is excellent.
How OnePlus's imaging software pulls the mighty camera hardware together with Hasselblad features remains to be seen in our full review, so watch this space. If you're thinking about picking up a OnePlus Open and want to know what the competition looks like, check out our guide to the best flip and fold phones out now, and if you're leaning towards a traditional non-folding phone, here are our top picks for the best camera phones of 2023.
Editorial note: Basil has worked with Oppo's communications agency as a consultant. OnePlus and Oppo are part of the BBK group. Basil has never worked with OnePlus directly or any of its agencies. Having worked with Basil for years, we are confident in his ability to cover OnePlus in an unbiased way.