Lens manufacturer Zenit has announced a news lens for Sony E-mount cameras. Unveiled alongside the Zenitar 35mm f/2, the 50mm optic (designated 1.5/50 in Zenit nomenclature) is full-frame compatible and fully manual.
The new optic is stated to be suitable for everyday photography, but is also highly useful for specialist genres – namely portrait photography. The latter will no doubt benefit from the large maximum aperture, which should provide significant subject separation and pleasingly shallow depth of field.
"The device has a focal length of 50mm and a variable aperture f/1.5-f/22," states Zenit in describing its new product. "At the maximum value of the latter, the lens provides a minimum depth of field, which allows you to highlight the subject against a blurred background, making the photo three-dimensional and artistically expressive."
We will have to wait for more details regarding the full specifications of the lens – and the number of aperture blades, in particular – before being able to make any predictions about the bokeh quality.
The retro styling of the lens should prove popular with street photographers and fans of throwback rangefinder 35mm cameras. The design of the Zenitar 50mm f/1.5 FE shares characteristics with previously released Zenit lenses for the E mount.
According to the Russian brand, we can expect seven new photographic lenses with different mounts throughout 2021, including an E-Mount Zenitar 2/35 (35mm f/2). This lens is set to enable users to "obtain images with natural color reproduction and high frame detail even in low light conditions."
While the lens is manual focus, we hope that the quality will be enough to tempt Sony users looking for a retro experience from a full-frame optic. The Zenitar 50mm f/1.5 FE (1.5/50) will go on sale soon, and we look forward to bringing you a full review when we get our hands on a sample.
Read more:
Best Sony lenses (opens in new tab): top lenses for Sony mirrorless cameras
Hands on: Zenit M review (opens in new tab)
Fastest lenses (opens in new tab) you can buy right now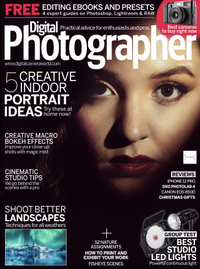 (opens in new tab)
Get the kitbag essential for Enthusiasts and Professional photographers. Packed full of pro advice, tutorials, techniques, interviews and kit reviews, Digital Photographer Magazine (opens in new tab) will help you take your images to new heights.
£2.77 (Digital) | £3.85 (Print) | £4.24 (Print + Digital)