A never-ending task at Digital Camera World, and one we don't take lightly, is maintaining our buying guides. Something caught my eye this week, however, as I was checking our advice for potential action camera customers: GoPro has lost two major battles – one with DJI, and one with itself!
That's because we keep a guide to all the best action cameras (which can include competitors to GoPro) and in that one GoPro has been unseated by the DJI Osmo Action 4, which offers a larger image sensor that we prefer for low light work. It's a balancing act, admittedly – the camera is 'only' 4K compared to the top GoPro's 5.3K, but we made the choice based on what was more useful most of the time.
That is something that, I think, we are clear about in the guide; it is admittedly a decision that might go a different way depending on the customer, and the GoPro is still high up there. It has fantastic features, including image stabilization and the ability to use your AirPods as a microphone.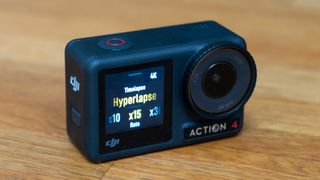 Because at least one new GoPro comes out every year, and the brand has branched out into 360-degree cameras too, we also have a buyer's guide specifically relating to the best GoPros. For a long time the best choice – at least for those not watching their pennies too closely – was automatically the latest model, which is currently the GoPro Hero 12. The thing is, when I last updated the guide, I couldn't in good consciousness call this the best GoPro for most people.
Why? Because for me one of the coolest features of the GoPro – one that set it ahead of other cameras – was the GPS sensor. This recorded the camera's position onto photo and video metadata. That's cool enough, but in action video it's even more useful because the app can extrapolate the speed that the camera is moving. So if, for example, you have it attached to your bike's handlebars, it can draw a speedometer onto your footage before you share it. How cool is that?
Obviously, a feature like that has its limitations – it won't work underwater or indoors (where GPS signals cannot penetrate), and it relies on a bit of software magic to smooth out the data, but it's still nice to have. Yet GoPro took it out of the Hero 12 Black (after being in every new generation since 2015).
Why? GoPro's view is that it is a niche feature and one that uses a lot of battery. There are workarounds involving carrying an extra device to save GPS data, but it's not as elegant. The Hero 12 does offer some improvements in terms of camera, and better battery life, but for most folk we decided it's better to have the GPS option – especially since you might also get a 'last year's model' discount.
It's also worth noting that the DJI Action 4 doesn't include GPS, either, except via a Bluetooth accessory, the GPS Remote Controller. At any rate, low light performance is how it captured our hearts – or mine, at any rate.
If you're looking to spend even less, look at our guide to GoPro alternatives, which includes some cheaper options. Alternatively, why not embrace the exciting new world of the best 360-degree cameras, many of which are designed for action. ANd don't forget to check the (ever-dwindling) best cameras with GPS.