Just when I thought the days of cheap AF lenses had gone, Viltrox hits us with one of the cheapest autofocus lenses I have seen in a long time.
The Viltrox AF 20mm f/2.8 FE lens is a lightweight, autofocus lens designed exclusively for Sony full-frame E mount (FE). Designed for travellers, vloggers, and those on the move, this lens weighs in at just 157g enabling you to capture beautiful images without the burden of carrying heavy equipment. The E Mount has a long list of great Sony lenses, however, this one may be one of if not the lightest.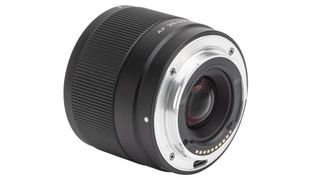 Aside from its minute form factor the best selling point of this lens is the price. This lens comes in at just $158!! For a full-frame autofocus wide-angle prime with an aperture of f/2.8, you will be hard-pushed to find one cheaper!
Although cheap, this lens looks set to pack a punch being made up of 10 elements in 8 groups including 2 ED lenses, 1 lens with a high refractive index, and 2 aspherical lenses. It is hard to imagine that with this much glass, the lens is so light! The optical design of the lens keeps vignetting, spherical, and chromatic aberration to a minimum.
Although short and compact this wide-angle prime is not a pancake lens like the Sony E 20mm f2.8 (APS-C E mount). The Viltrox 20mm is 65 x 59.5mm and weighs just 157g. The closest native lens equivalent for Sony full-frame FE is the Sony FE 20mm F1.8 G, which is notably heavier, larger, and much more expensive - although it does have the nice advantage of being a f/1.8.
Other third-party manufacturers have also made a 20mm for the full-frame E mount such as the Tamron 20mm f/2.8 Di III OSD Macro and the Sigma 20mm f/2 DG DN I Contemporary, but still both are almost double the Viltrox's weight.
As well as weighing less than a mobile phone, the lens also has a number of attractive features for those wanting to shoot both stills and video on the move. It comes with eye/face autofocus, allowing you to track focus automatically when using video or stills. This is the case for both humans and pets, with Viltrox stating that it ''can efficiently and accurately lock to a subject'.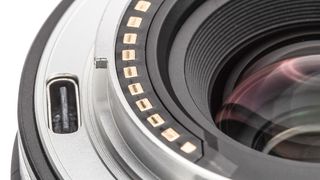 Other notable features include a minimum focusing distance of just 0.19m, an STM stepper motor, and a USB-C interface for updating lens firmware straight to the lens without having to do it through the camera body.
This seems like a nifty little lens that can easily be carried around in your bag with little to no notice, for both video and stills purposes, and the best part is the price. This lens is available to pre-order now for mid-November release at the bargain price of $158 | £130 | AU$250.
Reviews of other Viltrox lenses: