With the recent launch of the Leica M11 Monochrom, the German camera manufacturer has also launched a Monochrom edition of its Leica Watch.
This new Leica watch Monochrom edition takes its inspiration from the release of the latest Leica M11 Monochrom camera, and honors the most fundamental principles of black-and-white photography: contrast and light.
It takes a deep understanding of products, years of expertise, and perhaps the right amount of boldness to create something that is so understated and yet alive with detail. And it's arguably the perfect companion to join the best Leica cameras while out shooting some stunning street photography.
Remarkable tones and nuances stand out in a symphony of shadows and reflections, rich with detail, creating a harmony between two of Leica's most outstanding products.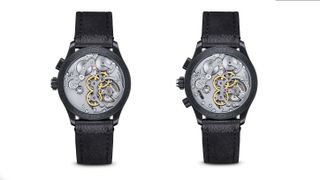 The Leica Watch collection consists of two models – both with the mechanical, hand-wound movement developed and produced in-house – the Leica ZM 1 and Leica ZM 2, which are now available in the new Monochrom Edition.
Following the holistic view of the Leica product portfolio, the ZM in the name stands for "Zeitmesser" – which is the German descriptive word for an instrument that measures and displays time (not a clock).
Following the success of the latter series of Leica Watches that were launched in 2022, the ZM collection is now available in 25 Leica stores worldwide including the USA, UK, Australia, Germany, Switzerland, Austria, France, Spain, Portugal, China, Japan, Singapore, Korea, Hong Kong and the United Arab Emirates.
The recommended retail price starts at £9,900 (approximately $12,400 / AU$18,800) for the Leica ZM 1 Monochrom and £13,300 ($16,700 / AU$25,300) for the Leica ZM 2 Monochrom.
While these are probably out of the price range of most of us, it goes to show the extent of Leica becoming a luxury lifestyle brand as well as a professional camera manufacturer. It might be targeting the high-tier market, but its cameras have done that for years.
If you want to see which Leica camera is best for you I would recommend taking a look at the Leica M11 review. If mirrorless cameras are more your thing then try the Leica SL2, or if you want a compact camera that packs a punch the Leica Q2 will see you right. Then you can check out the best Leica M-lenses for your M rangefinder or check out the best Leica SL-Lenses!