Nikon Northern Europe has added Donna Crous and Andrew Parkinson to its ambassador line-up for 2020/2021. Established in 2013, Nikon's prestigious ambassador program represents some of the most talented photographers around, aiming to educate and inspire photographers of all abilities to reach their creative potential.
Donna Crous (opens in new tab) is a professional food photographer and dedicated Nikon photographer. Her reputation is not only built on her photography, but also recipe development and styling. These skills have led to worldwide recognition with a global portfolio spanning production for magazines, brand development and recipe books. Donna embraces an artistic approach with her photography, preferring to shoot with natural light where possible and produces all recipes herself.
When she's not busy shooting for clients, she is often found holding talks and workshops for Nikon, as well as running her own workshops and mentoring sessions. She is currently working on her first cookery book, "A Healthier Family for Life" (Little, Brown Book Group) due to be published in 2021.
Andrew Parkinson is a multi-award winning wildlife photographer and regular National Geographic Feature Contributor. His images are used globally by a network of leading agencies and publications including Getty, The Discovery Channel, The New York Times and RSPB Images.
He works exclusively with wild animals and birds, and often speaks about photography ethics, conservation and animal rights. His integrity and passion for the natural world translate clearly into every image he produces, and he uses his immense experience and skillset to mentor wildlife photographers of all abilities.
Nikon's prestigious Ambassador Alumni features 15 industry-leading photographers including: Richard Peters – award-winning wildlife photographer, Helen Sloan – Game of Thrones Principle Stills Photographer, Conor McDonnell – 'Forbes 30 under 30' entertainment photographer, Amy Shore – automotive and lifestyle photographer and multi-award winning Fine Art photographer and author Kirsty Mitchell, among others.
In response to the announcement, Julian Harvie, Head of Marketing at Nikon Northern Europe says "We are delighted to be bringing Donna and Andy into our community of Northern European ambassadors. Their talent and creative vision as photographers represent the diverse interests and aspirations of photographers across the continent. They are true advocates of photography at the highest level."
He continues, "Both will play a pivotal role in instilling creativity and inspiration through a range of activities including workshops with Nikon School (opens in new tab), talks at key events such as the virtual Photography Show (opens in new tab) and through collaborations across social media and the press."
For more information about the Nikon UK Ambassadors please visit: Nikon Ambassadors Program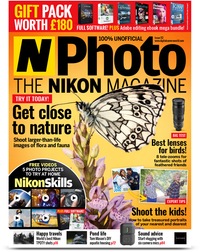 (opens in new tab)