Fujifilm has announced that the demand for the newly publicized GFX 100 II has exceeded expectations and may result in a shipping delay in its native Japan.
The Fujifilm GFX 100 II was unveiled on September 12 2023, delighting existing Fujifilm fans and creating new ones around the world. Such is the early demand for the camera that Japan has already run out of its allocated stock for the territory.
• Check out our verdict in our hands-on Fujifilm GFX 100 II review
"We have received more reservations for the mirrorless digital camera Fujifilm GFX100 II released on September 28th (Thursday) than expected, so it may take some time for the product to be delivered," read an official notice from the manufacturer.
"We will do our best to deliver the product as soon as possible, so we appreciate your understanding."
The new GFX 100MP CMOS II HS sensor has improved on the performance of the original GFX 100 in almost every aspect. Coupled with the new X-Processor 5, the new camera will deliver faster writing speed, slower buffering times, improved image stabilization, and a host of high-spec video upgrades.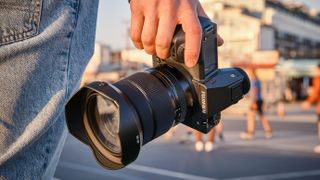 The response to the unveiled specs has been overwhelmingly positive, with the GFX now being an option for a whole new selection of creators. The GFX system is now an attractive and viable option for sports, wildlife, and video. Due to the passionate response to the new features, in conjunction with the continued global chip shortage, Fujifilm is expecting delays in fulfilling the shipping in Japan.
This is not the first time a new GFX camera has caused shipping delays due to high demand. The Fujifilm GFX 50s II also had the same issue, which took months to catch up on, and even the supply of Instax cameras and film has faced challenges.
This has become a common occurrence, making it tough to distinguish whether this is a form of marketing scheme from Fujifilm to create more of a rush to preorder. In any case, the Fujifilm GFX 100 II will officially be released on September 28 – just don't be surprised if there are delays in your region, too!