Star Wars Day might have been and gone, but nothing screams Jedi more than these powerful new Tube Lights from LumeCube, intended for photographers, filmmakers, and content creators to enhance their setup with app control over the RBG spectrums, temperature, tint adjustments, and luminance of these lights.
Ever wanted to light paint with a lightsaber? Well now - you pretty much can. There's no need to purchase an expensive custom elite lightsaber from Saberforge when LumeCube is offering the complete package with its new Tube Light series for creators. Sure, it might not make the vmmuvvm sound when you swoosh it around, but the powerful light produced by these tubes makes them ideal for stills and video.
• See our picks of the best LED light sticks and light wands for photographers.
The brand new Tube Lights from LumeCube are available now and come in two models, there's the standard 12-inch (1ft) Tube Light Mini which retails for around $169.99 (£135 / AU$252), and the much longer 48-inch (4ft!) Tube Light XL, which is available for $399.99 (£316 / AU$593 approximately) directly from LumeCube.
Both of these tube lights boast a CRI rating of 96+, seven pre-programmed special lighting effects (through the app only), a variable color temperature menu (between 2700K - 7500K), are capable of the full RGB spectrum, provide Green/Magenta tint control, are fully Bluetooth compatible, and offer 16 million (yes, really) color options for you to get creative with.
The Tube Lights are also weatherproof and durable, able to withstand an array of shooting conditions thanks to the premium aluminum body design. The Tube Light XL is capable of performing at 100% brightness for over four and a half hours on the internal battery alone, and can be charged while in use.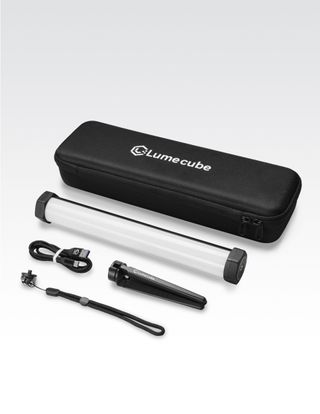 The best part about these tube lights? They double as power banks! So in between shoots, you can even charge your phone or camera batteries to keep your gear in top performance through the built-in USB-C port. The Tube XL also has a separate A/C power port for charging while in use.
And if you don't like the idea of (Han) solo lighting for your setup, you can purchase the Tube lights in a paired bundle for a discounted price. If money is a little tight, LumeCube also offers a fantastic certified refurbished section on its website allowing you to purchase preloved gear at a great price.
"We are constantly inspired by our community of creators and innovators," shared Lume Cube CEO and co-founder, Riley Stricklin. "We know the right light changes everything, and the Tube Light Mini and Tube Light XL are going to be a game changer for so many. We are so excited to see what our community creates using these powerful lights."
Included with these Tube Lights from LumeCube are aluminum tripods, and travel cases - making them super portable for taking to and from the studio or location shoots. They're also shock and drop-resistant and built with rotating magnetic end caps to allow for flexible mounting options wherever you choose to install them.
As previously mentioned, these lights can be remotely controlled via bluetooth through the Lume Control smartphone app, as well as the on-tube buttons and menu screens as demonstrated in the video above. The app also boasts seven pre-programmed special effects that can be used with the Tube Light, including 10-Speed Settings: Loop, strobe, lightning, fire, candle, siren, and TV flicker.
LumeCube is also launching a new "Photo Eyedropper Tool" whereby creators can match their Tube Lights to any color or environment using the eyedropper. The updated Lume Cube app also pairs with all current Lume Cube lights, and enables creators to build their own creative ecosystems and customizations.
• You might also be interested in the best-LED light panels for photographers, as well as the best video lights and the best ring lights for content creators and avid Tik-Tokers.