We love the retro looks of the Nikon Z fc, which harks back the classic Nikon FM 35mm SLR range. Back then, cameras just came in black and silver, so that's the standard trim for the Z fc. But it will also be possible to get different color leatherette finishes at selected outlets, and just when we thought the Z fc couldn't look any better – it does!
The Nikon Z fc is the company's new APS-C format mirrorless camera and is clearly designed for retro camera fans and style conscious photographers who want more than just a regular black camera.
Technically, the new Nikon Z fc is almost the same as the existing Nikon Z50 camera, but the design is utterly different. The regular black and silver Z fc will be sold in different kit configurations, but it looks as if the extra color options will include the Nikkor Z DX 16-50mm f/3.5-6.3 VR kit lens as standard, but in a special edition silver finish.
• Read more: Nikon Z fc vs Nikon Z50
Nikon Z fc color choices
The standard black and silver finish (also called plain 'black') will be joined by six more, called:
• Amber Brown
• White
• Natural Gray
• Sand Beige
• Coral Pink
• Mint Green
Annoyingly, they all look equally lush, so it won't be so easy to make a choice.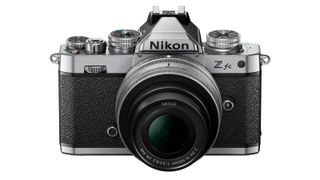 Where can you get the Nikon Z fc colors?
Right now, Nikon USA is offering these as an exclusive on its own online store (for an extra $100 over the plain black version – cheeky!), but they are also being offered in Japan and Australia, and we wouldn't be surprised to see some or all of these colors appearing in regular dealers worldwide at some point, possibly as 'exclusives'.
This will be like a breath of fresh air to photographers fed up of the usual drab black or silver finish of regular cameras. Olympus has done this in the past with its PEN series (we loved then Denim option most of all) and we can remember as far back as the Pentax K-S1, which was launched at the Photokina show in Cologne a few years back in more colors than you can possibly imagine.
Pre-order the Nikon Z fc at Adorama (US)
Pre-order the Nikon Z fc at B&H (US)
Pre-order the Nikon Z fc at Park Cameras (UK)
Pre-order the Nikon Z fc at Wex (UK)
Pre-order the Nikon Z fc at Ted's Camera (Au)
Read more:
• Nikon Z50 review
• Best Nikon cameras
• Best mirrorless cameras
• Best vlogging cameras
• Best cameras: how to choose