Lexar has launched a new range of microSD cards designed for action cameras, drones and camera phones. The new Lexar Professional 1066x microSDHC/microSDXC Cards SILVER Series boasts the fastest possible speed ratings for a UHS-I microSD card, being U3, V30 and A2 certified. This means you get blistering fast 160MB/s read and 120MB/s write rates, making these cards an ideal choice for 4K or high bit-rate Full HD video capture, and possibly the best microSD cards for smartphones.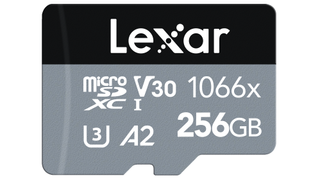 But it's the A2 certification that makes these cards particularly appealing for use in an Android camera phone with expandable storage. Android can utilize a microSD card for storing images and videos, but it can also use the card as a seamless extension of a phone's built-in memory, so you can install apps to, and load apps from, the microSD card. With a slow microSD card, this can cause sluggish app performance, but not with an A2-rated microSD card.
A2 - or Application Performance Class 2, to give it its full title - doesn't measure speed in terms of megabytes per second in a sustained data transfer - e.g. reading or writing one large video file. Instead, Application Speed Class measures IOPS (Input/Output operations Per Second), which is the number of small files that can be randomly read from and written to the card per second. A2 speed class means the card is rated for a minimum 4000 IOPS random read and 2000 IOPS random write. To put that in perspective, this kind of speed can equal or possibly even exceed the IOPS rating of a phone's built-in storage.
Lexar Professional 1066x microSDHC/microSDXC UHS-I SILVER Series cards will available in November and will come in 64GB, 128GB, and 256GB capacities. 32GB and 512GB are expected at a later date.
Swipe to scroll horizontally
Lexar Professional 1066x microSDHC/microSDXC UHS-I SILVER Series pricing

| Header Cell - Column 0 | US | UK |
| --- | --- | --- |
| 64GB | $19.99 | £15.99 |
| 128GB | $34.99 | £26.99 |
| 256GB | $59.99 | £49.99 |
Read more: