We knew they were coming, but it's still a big moment to see Sigma's 11 new L-mount lenses finally revealed at the CP+ exhibition in Yokohama. They are all from Sigma's existing series of Art prime lenses, and range in focal length from 14-135mm.
This dramatically increases the number of lenses available for Panasonic's new Lumix S1 and S1R full frame mirrorless camera, joining the three Panasonic lenses already available for this system and contributing to the list of 42 L-Mount lenses promised by Panasonic, Sigma and Leica by the end of 2020.
Here's the full list:
Sigma 14mm F1.8 DG HSM Art ($1,599.00)
Sigma 20mm F1.4 DG HSM Art ($899.00)
Sigma 24mm F1.4 DG HSM Art ($849.00)
Sigma 28mm F1.4 DG HSM Art ($1,399.00)
Sigma 35mm F1.4 DG HSM Art ($899.00)
Sigma 40mm F1.4 DG HSM Art ($1,399.00)
Sigma 50mm F1.4 DG HSM Art ($949.00)
Sigma 70mm F2.8 DG Macro Art ($569.00)
Sigma 85mm F1.4 DG HSM Art ($1,199.00)
Sigma 105mm F1.4 DG HSM Art ($1,599.00)
Sigma 135mm F1.5 DG HSM Art ($1,399.00)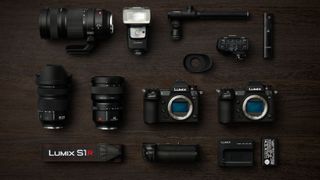 L-Mount background
The L-Mount was first developed by Leica in 2014 for both full-frame and APS-C mirrorless cameras and has been refined end developed to offer a 'future-proof, flexible, robust and precise' alternative to rival full frame mirrorless systems from Sony, Canon and Nikon. It has a wide 51.6mm diameter and a short 20mm flange-sensor distance which Sigma says is key to the development of certain types of wide-angle lens in particular.
• Panasonic S1 and S1R: everything you need to know about the new Lumix range
Leica already makes L-Mount lenses for its SL mirrorless camera (the Panasonic S1 and S1R are not the first L-Mount cameras) and the interchangeability of L-Mount lenses means Panasonic Lumix S owners can take advantage of premium Leica lenses, and Leica SL owners now have access to many of Sigma's more affordable Art prime lenses.
Read more:
• The best mirrorless cameras in 2019
• The 10 cheapest full-frame cameras in 2019
• Sigma full-frame mirrorless camera is coming