Priced to be within the budget of enthusiast photographers, Nikon's Z 180-600mm f/5.6-6.3 VR super-telephoto zoom had actually been listed as a 200-600mm lens on the Z-series lens roadmap – so the official announcement offers a bonus 20mm reach at the wide end.
Nikon very much sees this as the Z-mount successor to its popular AF-S 200-500mm f/5.6E ED VR F-mount super-telephoto lens for DSLRs. It's aimed at amateur wildlife, aviation and motorsports photographers. The Z 180-600mm f/5.6-6.3 VR has Vibration Reduction rated at 5.5 stops, to keep shots pin-sharp even when you're shooting handheld. For fast-moving action, a Sport mode stabilizes the viewfinder image, making it easier for you to capture unpredictable or fast-moving subjects.
Mount: Nikon Z
Full frame: Yes
Image stabilization: Yes
Autofocus: Yes
Lens construction: 25 elements in 17 groups (inc 6 ED and 1 aspherical element)
Diaphragm blades: 9 (rounded)
Minimum aperture: f/32-36
Minimum focusing distance: 1.3m (180mm) - 2.4m (600mm)
Maximum magnification ratio: 0.25x
Filter size: 95mm
Dimensions: 100x315.5mm
Weight: 1955g
The lens has been constructed from 25 elements arranged in 17 groups, including six ED (Extra-low Dispersion) elements, one aspherical element and a fluorine-coated front element to repel moisture and make dust and smudges easier to clean. A 95mm filter thread enables the attachment of filters.
The high- speed Stepping Motor (STM) is whisper-quiet during focusing, making the lens as useful for shooting video as for stills. Tracking is said to be rock-steady when used in conjunction with Nikon Z-series mirrorless cameras that have animal or vehicle subject detection.
The focal range extends all the way from 180mm to 600mm with a 70-degree twist of the zoom ring, and it can focus pretty closely too, with a minimum distance of 1.3m at 180mm, and 2.4m at 600mm.
If even 600mm isn't long enough for you, the Z 180-600mm f/5.6-6.3 VR is compatible with Nikon's TC-1.4x and TC-2.0x Z-series teleconverters, which further extend the reach to a maximum 840mm or 1200mm respectively; and those aforementioned ED elements reduce axial chromatic aberration, even when using a teleconverter.
The lens comes with a tripod foot that can easily be switched from landscape to portrait orientation, or removed entirely for handheld shooting or replacing with an Arca-Swiss foot.
The lens has weather-sealing – although, as Nikon points out, this isn't as comprehensive as the protection you'll find on the top-of-the-range S-line lenses. And it's relatively light, tipping the scales at a shade under 2kg with the tripod foot removed – it goes from 1955g to 2140g with the foot attached.
It's reasonably compact too, considering the monster telephoto reach, measuring approximately 100mm in diameter by 315.5mm length. An internal zoom mechanism means that the lens doesn't extend as it moves through the focal length. All of this combines to make handheld shooting a possibility.
The Z 180-600mm f/5.6-6.3 VR's truly gargantuan zoom range in a relatively easy-to-handle optic and its very reasonable price tag will put this at the top of the shopping list for wildlife and motorsports enthusiasts, who can't stretch to the megabucks that fast pro telephoto primes demand.
The lens will be available from August 2023 at a launch price of $1,699.95 in the US, £1,799 in the UK and AU$2,999 in Australia.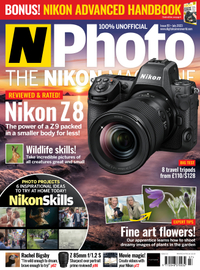 N-Photo: The Nikon Magazine is a monthly magazine that's written by Nikon enthusiasts for Nikon enthusiasts, you can be sure that all the content is 100% relevant to you! So for the best Nikon-focused news, reviews, projects and a whole lot more, subscribe to N-Photo today – with our unmissable sub deal!
You might be interested in the best Nikon cameras along with the best Nikon lenses – and particularly the best Nikon Z lenses designed for its mirrorless cameras.