Leica has just released what might be the most beautiful camera camera in the world: the ultra-limited edition Leica M10-P SC Asset, which is finished in pure sandblasted brass.
The camera comes with what is undoubtedly the most beautiful kit lens in the world, the Leica Summilux-M 50mm f/1.4 ASPH lens, which also comes in a stunning brass finish with a vintage round lens hood.
Just like the brass beauties of old, the body and lens will discolor and age over time, ensuring that every single Leica M10-P SC Asset becomes a completely unique, one-of-a-kind camera.
"Every single Leica M10-P SC Asset" doesn't amount to very many, though; there are only 30 of these cameras being produced – and they're only available from Leica's Thailand outlets.
That's because this project is a collaboration between Leica and high-end Thai real estate company, SC Asset. Its CEO, Natthaphong Khunakornwong, is a lifelong camera collector, and according to News Plus he invited Leica Thailand head Danai Sorakraikitikul (whose family owns Prada Jewelry) to work together.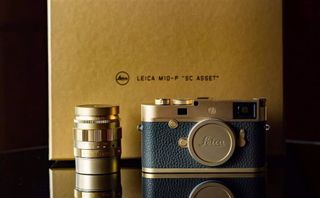 Beneath all the gloss, this is the same Leica M10-P body with a 24-megapixel full-frame sensor, 3-inch touchscreen with 1.04 million dots, ISO100-50,000 range and 5 frames per second burst mode – but slightly subpar JPGs and no video capability.
It does, however, feature "the quietest shutter of any M Camera ever", possibly because you'll be left speechless at how much money you've just spent.
Actually, snarkiness aside, that might not be true – there doesn't seem to be a price listed for the Leica M10-P SC Asset anywhere. Possibly because if you have to ask, you can't afford it.
If any of our readers happen to be passing a Leica Store on their next trip to Bangkok, please do pop in and let us know how many kidneys we need to sell.
Read more:
The 10 best Leica cameras in 2019
I can't stand losing $14,995… even if it is on an Andy Summers Leica M Monochrom
Nikon, Leica and Olympus pull out of Photokina 2020