UPDATE 04/05: Apple analyst Ming-Chi Kuo has said that Apple is due to announce its own fold phone in 2023 – a little later than some previous rumors had suggested. Interestingly, Kuo was able to use industry sources to uncover some of the specs we might be able to expect from the Apple fold phone. Apparently, the display will measure around 8" diagonally when unfolded and will have a QHD+ resolution.
Meanwhile, the display will be sourced from Samsung (which is unsurprising, considering that Samsung produces some of the best fold phones around). However, the Apple fold phone will supposedly use silver nanowire touch technology developed by TPK.
Apple is said to be aiming for a shipment target of between 15 and 20 million units. However, Kuo (via GSMArena) also warns that this news is "highly speculative" and that if the market doesn't embrace other manufacturers' fold phones that are due to be released over the next year or so, then Apple could end up scrapping all of its fold phone plans.
ORIGINAL STORY: The growth of the folding phone market over the past few years has been an exciting extension of the camera phone market as a whole. Since the release of the Samsung Galaxy Fold in 2019, we've seen other folding phones appear. However, we're yet to see a foldable offering from Apple – but this could all change in 2022.
Various sources are indicating that we could be seeing the iPhone Flip appear at some point next year in a flip / clamshell design. Likely to include either an OLED or mini LED flexible display from Samsung, the iPhone Flip has reportedly been undergoing extensive testing to ensure that this folding phone will be durable enough for everyday use.
• Read more: Best iPhone for photography
Dutch website LetsGoDigital has produced a series of 3D renders of what we could expect the iPhone Flip to look like in collaboration with graphic designer Technizo Concept. These renders are based on information about Apple's plans that have emerged from "various sources in the supply chain".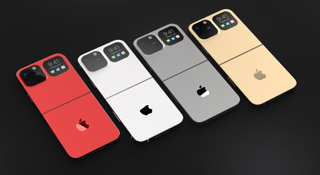 While these 3D renders definitely aren't official, they do show an interesting potential design for the iPhone Flip. LetsGoDigital and Technizo Concept have included the triple camera setup that can be seen on the iPhone 12 Pro Max and a cover display to show notifications when the folding phone is closed.
According to leakster Jon Prosser, the iPhone Flip will have a suggested retail price of $1,500, which is comparable to other folding phones such as the Samsung Z Flip and the Motorola Razr. Prosser also reports that the iPhone Flip will come in a variety of bright colors.
While it's certainly exciting to see these iPhone Flip renders, we'll still have to wait for official information on this folding phone. Industry experts are predicting that the earliest we'll see the iPhone Flip is 2022 – but some think that 2023 is more realistic. Either way, we're more than happy to wait for Apple to iron out all the kinks before they release it to the market.
Read more
Best flip phones in 2021
Best camera phone
Best budget camera phone
Best camera for TikTok
Best TikTok lights
Best ring light