This is a great looking deal for Canon DSLR users... Amazon has cut the cost of the fast-apertured, pro-grade Tamron 70-200mm f/2.8 to just $1019.99 - and that's around $279 off the RRP and around $80 cheaper than we can find it elsewhere.
Tamron SP 70-200mm F/2.8 Di VC G2 is the Japanese lens specialist's very latest version of this zoom that is found in the camera bag of practically any photographer. Portraits, events, weddings, sports, wildlife and landscapes – this lens is a true all-rounder. What makes it special is its fast f/2.8 maximum aperture - which the lens maintains across its full focal length range.
This lens is designed for use on Canon EF mount DSLRs. But thanks to the fact that many mirrorless users own an adaptor, could be used on Sony FE and Canon RF mount cameras too.
The Tamron SP 70-200mm F/2.8 Di VC G2 is one of our favorite and best 70-200mm lenses - producing superb image quality at a very sensible price. A key specification that it offers is a built-in Vibration Compensation image stabilization system that gives an impressive five stop advantage when shooting handheld.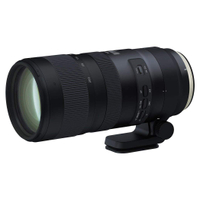 Tamron SP 70-200mm F/2.8 Di VC G2 for Canon
A great price on a professional telephoto zoom - and ideal for those who want to raise the game with their Canon EOS camera. With a fast maximimum aperture of f/2.8 throughout the range, the lens is supplied with a tripod foot - and can be used with compatible teleconverters to give even further reach should you need it.
Amazon US deal
Read more
Best telephoto lens in 2020: top zooms for your camera
Best 50mm lens in 2020: Which 'standard prime' is the right one for you?
Best lens for portraits in 2020: our pick of the best 85mm lenses right now