GoPro has just launched a Boom Extension Rig which will give creators even more freedom to create dramatic cinematic shots. It can be used as a follow cam or to record third-person perspective shots while surfing, skating, snowboarding or cycling.
Known for making some of the best action cameras including the GoPro Hero 11 Black ,and the GoPro Max - one of the best 360 cameras. There is already a huge range of GoPro accessories available including chest mounts, head mounts, invisible selfie sticks, and the GoPro Volta, an external battery grip that doubles up as a tripod and remote. But this latest product launch adds even more versatility to the GoPro range.
• Check out the best GoPro cameras including the latest and greatest and slightly older models that have dropped in price
Made from carbon fiber and each arm swivels so that you can position the arms to get the perfect angle. It also comes with a ball joint mount for the camera so you can fine-tune your shots and completely change perspectives while shooting on the move. The boom arm extends from 10 - 21 inches and can be adjusted and secured using hex screws and a lock that secures the arm in place.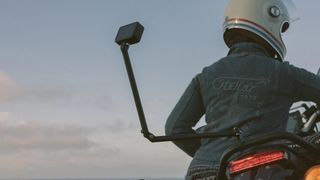 The GoPro Boom Extension comes in three different kits, the Boom and Adhesive amount can be used on its own or compatible with other mounts and starts at $55.99/£59.49 with a GoPro Subscription, or $69.99 for non-subscribers. In Australia, that's AU$109.95 for all customers.
The Boom and bar mount is perfect for cyclists as it can be attached to rounded handlebars or seat posts and used to capture fully immersive footage while downhill mountain biking or road cycling. It's a little more expensive at $79.99/£84.99 for subscribers and $99.99 for everyone else.
The third available kit includes the boom arm and a suction cup which is designed to attach to a vehicle to capture dynamic moving shots either internally or externally making it perfect for content creators who regularly shoot moving car scenes. It's the most expensive mount at $87.98/£93.48 for subscribers and a standard price of $109.99, or AU$159.95 for all Aussie shoppers.
As GoPro continues to expand its range of accessories, it's making its products even more versatile and a more viable option for filmmakers who are after a compact action camera that is capable of achieving cinematic video.
GoPro has issued a warning that this accessory is not to be used in extreme sports such as sky diving, base jumping, bungee jumping or other aerial sports where it could affect the safety of the user.
Category
Back to Action Cameras
Price
If you liked this article why not check out the best helmet cameras or the best budget action cameras