Is a Fujifilm GFX 100 II on the way? After a quiet year for GFX, rumors suggest that we could be seeing a successor to Fujifilm's original 100MP camera later this year.
Its fair to say that Fujifilm's GFX lineup of medium format cameras has opened new possibilities for photographers to get into larger format photography without the exorbitant prices of other brands, and has left a lot of photographers fervently awaiting what might be coming next.
The last GFX release was the Fujifilm GFX 50S II in September 2021 and, with no new GFX cameras coming last year, we are overdue a new camera to keep the system fresh and up-to-date. Fujifilm has made huge strides in the APS-C realm with the excellent Fujifilm X-H2S and Fujifilm X-T5, seeing big leaps in image quality, autofocus, image stabilization, and speed, and we can't wait to see how these can filter into the GFX system.
Fujifilm GFX 100 II rumors
The latest rumors point to a new replacement for the Fujifilm GFX 100. Following its release in June 2019, the Fujifilm GFX 100S was launched in February 2021 and managed to squeeze the excellent 102MP medium format sensor into a body roughly the size of one of the best full-frame cameras.
Since the GFX 100S' release, Fujifilm has jumped forward with its processor tech, with the new X-Processor 5 found in its latest APS-C cameras being able to handle better autofocus, including deep-learning subject recognition and tracking, as well as higher video rates, and faster shooting speeds.
So it is almost inconceivable that Fujifilm wouldn't be keen to upgrade the GFX range with this processor, as well as a host of other improvements. Here's what the Fujifilm GFX 100 II rumor mill is saying so far.
Tilting and detachable EVF
One of the early features of the GFX range, alongside the original Fujifilm GFX 50S was the Fujifilm EVF-GFX and EVF-TL1 combo. This enables the electronic viewfinder to not only detach, for easier carrying and storage, but also tilt for shooting at lower angles – much how many old school medium format film photographers might shoot.
Well according to the latest info from Fuji Rumors, the detachable and tiltable EVF might well be making a comeback – which will be very welcome news to anyone who has been missing that feature from Fujifilm's more recent cameras.
CFexpress Type B and SD card slots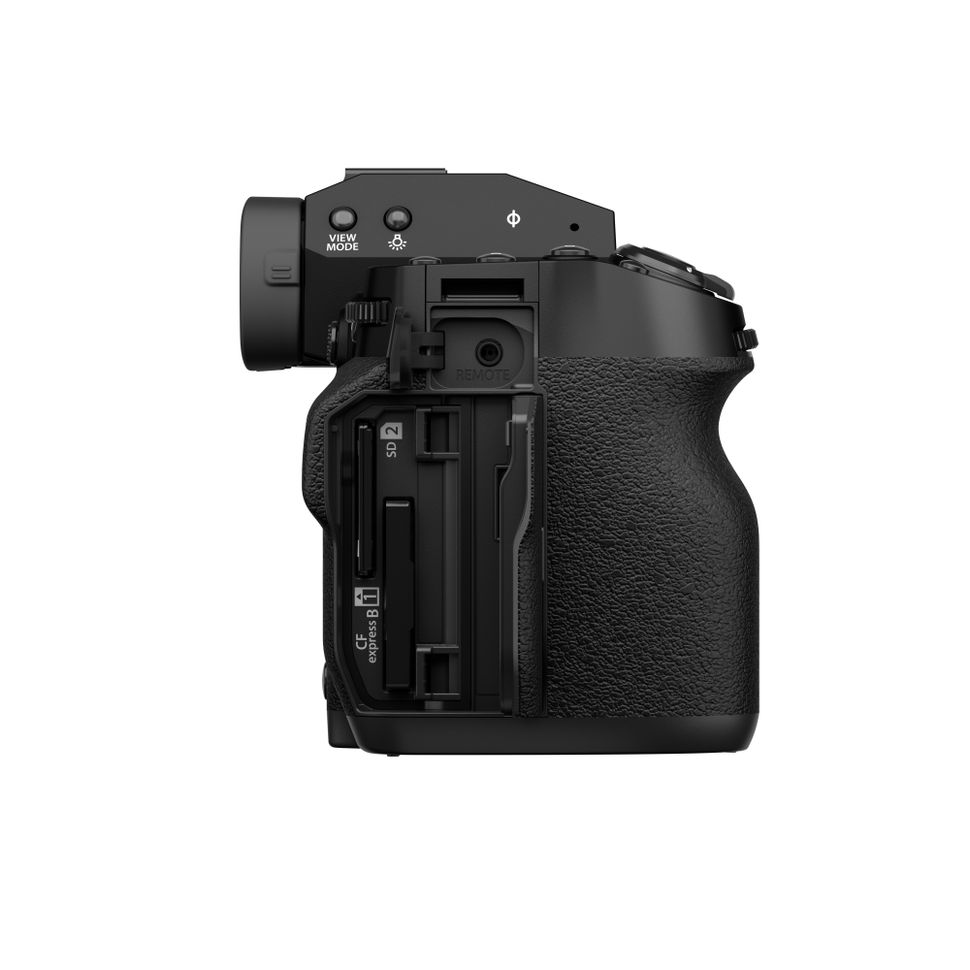 The latest reports suggest that a new GFX 100 would get an upgrade to its memory cards, with one SD UHS-II card slot being complemented by a slot for a much faster, but much more expensive, CFexpress Type B card.
This would be a step up from the current GFX100, which only offers dual SD cards. This would also bring it in line with Fuji's professional APS-C camera, the Fujifilm X-H2S, which offers both types of card.
Announcement date
Fujifilm generally announces new products at its X-Summit events – and while it isn't set in stone, these tend to happen twice a year: once in the spring and once in the fall.
While there is no official confirmation on when the next X-Summit might be happening, all rumors point to an event on September 12 – although these rumors have been wrong before, so don't cancel any plans just yet!
You can find out more about the latest Fujifilm rumors, along with the best medium format cameras – as well as the best Fujifilm GFX lenses.