The new issue of Digital Photographer is out now.
As the first signs of autumn start to appear, we have another amazing issue for you, packed full of pro techniques, advice and insight.
Night photography
Other than autumn colour, one of the aspects of this time of year that photographers look forward to is the shorter days. While sun seekers might complain as the sun rises later and the night draws in earlier, we know about the possibilities for incredible images the shorter days provide.
In this issue we explore the wonders of night photography. Covering everything from cityscapes to astrophotography and preparation to processing, delve into this complete masterclass to low light success.
Mindful photography
Up next is a feature we've been excited about for quite some time. It's a little different but has never been more appropriate, in the fast-paced, yet somehow stagnant times in which we currently live. There's a lot happening, but we're asked to stand still, stay home and be patient at the same time.
On these pages Paul Sanders explains his slowed down creative process, teaching us how to better connect with our subject, learn to appreciate our surroundings and make reflective creative decisions. It's not to be missed!
Create coloured light
Follow DP veteran Holly Wren on this shooting and editing project, where you'll learn how to put coloured gels to work, transforming your portrait images and more. Holly will guide you through the entire image creation process, from start to finish.
Lenses for astrophotography
Get your copy of DP Issue 233 today!
Get a digital copy instantly for £3.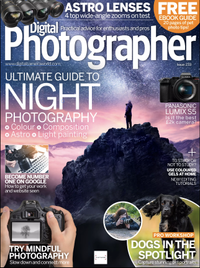 Digital Photographer is a monthly magazine, and the kitbag essential for enthusiasts and amateurs alike!
Inside, you'll find practical guides, shooting tips and techniques from working photographers, plus all the latest industry news.
Where to find Digital Photographer
Plus we've got the usual tutorials, interviews, insight and opinion, from a range of experienced pro photographers from across the industry.
Don't miss out on all of this essential professional-level advice. Get your copy of Digital Photographer now.
Why not Subscribe for a print copy or you can read us on your mobile device with a digital subscription.
You can get your copy of Digital Photographer in stores - but if you can't get out, then order a copy direct from us, either in print or digital form.
For printed back issues go to Magazines Direct
For digital editions of the magazine, you have a variety of options available:
Apple app (for iPhone and iPad)
PocketMags app (multi-platform app for Android and other devices)
Zinio app (multi-platform app for desktop and smartphone)
Readly (all-you-can-eat digital magazine subscription service)
Connect with us
Find us on Facebook and Twitter and subscribe to Digital Photographer, to ensure you never miss an issue!
Digital Photographer on Facebook
Digital Photographer on Instagram
Digital Photographer on Twitter
Read more:
Printer maintenance explained: Get the most out of your photo printer
The best camera gear for landscape photography