If you've ever taken a photograph in Scotland, you could win part of an approximately £6,000 (around $8,260 / AU$11,390) prize find that includes cameras, lenses, bags, filter kits and cash.
Scotland's Photo of the Year 2021 is a competition open to photographers all over the world, of all experience levels, from amateur to professional. The only requirement is that your photo was taken in, and visually expresses, Scotland. There are 11 chances to win, and the grand prize is a Sigma fp with Sigma 45mm f/2.8 DG, along with £2,000 ($2,750 / AU$3,795) in cash.
• Read more: Sigma fp review
The runner-up will take home a Canon Powershot G7 Mark II, one of the best compact cameras, and £500 ($688 / AU$949) in cash, while third place snags an Olympus Explorer Messenger Bag along with £200 ($275 / 380).
The remaining seven winners in the top ten will each receive £50 ($69 / AU$95), and there is a judge's merit award of £250 ($344 / AU$475) and a Kase Wolverine Magnetic Circular Filter Entry Kit, which "will be awarded by the judges for an image they feel displays particular skill or creativity" (and this image may or may not be part of the top ten).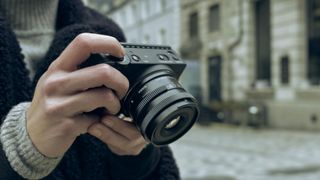 The competition, launched in 2019, celebrates the beauty of Scotland – from mountains and glens to lochs and castles. This isn't just a landscape contest, though; "Wildlife, portrait, architectural and cultural images are all welcome, as long as they have a Scottish identity," say the organizers.
While the subject matter isn't restricted, though, it must be identifiably taken in Scotland – so GPS metadata info may be required for macro or wildlife shots. And the integrity of images is important, too.
"All images must be a true and accurate representation of the scene or subject at the time the photo was taken. Basic editing is allowed, but cloning of objects (either in or out), merging or two images which were not taken at the same time, or trying to create colors which were never present in the original scene are not allowed. We will need to see the original RAW or unedited file for all top ten images for each category."
Judges include landscape photography legend Colin Prior, Sigma UK's general manager Paul Reynolds, and presenter of YouTube channel Photography Online, Ruth Taylor.
All profits go to local charities, and everyone who enters gets to choose where their money goes. For more information and to enter, visit Scotland.Photography.
Read more:
Best cameras for landscape photography
Best lenses for landscapes
Best cameras for wildlife photography
Best lenses for bird photography and wildlife
Best cameras for portraits
Best lenses for portraits