I'm one of those people who is very dubious when it comes to updating my MacBook's OS. I used Mojave (the 2018 release) for about three years before updating to the latest version which, at the time, was Monteray, and I instantly regretted it. My laptop seemed to run slower than ever, I had even less space on my hard drive, and I could no longer use some of the software I had installed.
One of the problems with updating your OS is that often the latest updates aren't compatible with older versions of photo editing software or video editing software you might have, meaning you might have to update all of your software. I recently had it the other way around. I had to to update my OS so I could use the latest generative AI features in Photoshop and Lightroom, but I was dubious about doing it because last time it caused me nothing but hassle. My OS was also already taking up a staggering 101GB of storage on my 250GB hard drive and the last thing I needed was for more to disappear.
Perhaps it's time for me to look at the best MacBooks for photo editing, which lists older more affordable models as well as the latest and greatest!
Using Photoshop and Lightroom was becoming painful; even simple tasks such as using the healing brush tool or resizing an image would trigger the "Scratch Disk Full" warning to appear. I'd then have to repeat the cycle of deleting as many documents as I could and emptying my recycle bin just to free up enough space to finish that one task.
To be completely transparent, my hard drive management is poor (clearly). I never delete Zip files once they've been unzipped, I had hundreds of XMT files and thousands of emails stored on my computer but even after deleting all of the above, my OS was still taking up an unholy amount of space.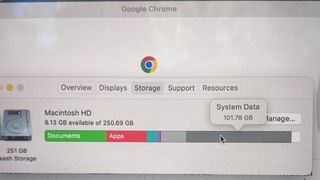 When I finally took my Macbook to the Apple store, I was hoping for a quick fix. I wanted one of the Apple Genius to open some secret files, type some code into a black screen and solve all my problems. Instead, I sat with someone as they painstakingly deleted individual files ranging anywhere from 10Mb – 100Mb but that wasn't even scratching the surface. The Genius suggested I back everything up and reinstall the OS from scratch but that sounded too much like hard work. And it would mean having to install all my software again too.
Lots of friends and fellow photographers recommended Clean My Mac – an app that helps to clean, maintain and remove unneeded files freeing up space on your hard drive. At $39.95/£29.95 for a year's subscription or $89.95/£79.95 as a one-time purchase, it's really not all that expensive but I was feeling cheap so I didn't bite on this either.
Instead, I followed absolutely nobody's advice, updated my OS to Ventura (released September 2022) and to my complete surprise it somehow freed up around 50GB of space on my hard drive. For the first time in years, I have over 70GB of hard drive space available. My laptop is running faster, I can run Lightroom and Photoshop at the same time with no fear of the dreaded Scratch Disk message popping up and I'm not wasting time deleting inconsequential files.
What I hadn't known was that the system stores operating system updates, which can take up many gigabytes, ready for installation. When the update is successfully installed, these are automatically deleted.
I am still going to look into buying some sort of cleanup software because I'd rather pay for an app to do that job for me than have to do it manually but for now, at least I'm happy to have found a solution that cost me nothing, freed up space and enabled me to use all the powerful AI tools Adobe have released without any hiccups. I guess the moral of the story here is rather than fearing updates, we should embrace them.
Also check out the best photo editing laptops if you don't fancy investing in an Apple product