If you've been thinking about jumping ship to Fuji, or if you're an existing Fuji shooter considering adding a second body to your setup, there has never been a better time – because right now the Fujifilm X-T3 is discounted by $500.
In one of the best early Black Friday camera deals we've seen so far, the brilliant Fujifilm X-T3 is available for just $999.95. And not only do you save $500 on the standard retail price, you also get a free spare battery and 64GB SanDisk memory card thrown into the bargain.
The X-T3 is one of our favorite Fujifilm bodies, and one of our favorite mirrorless cameras period. With its 26.1MP still images and 4K 60p video, it's an excellent hybrid camera that will serve you well for professional work, photography and videography alike.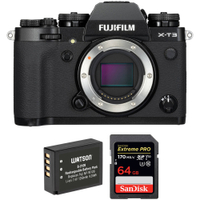 The Fujifilm X-T3 is one of Fuji's best and most popular cameras. While it has been succeeded by the Fujifilm X-T4 this year, the X-T3 is still a brilliant body – especially since the recent firmware update that gives it AF performance on par with the X-T4!
In fact, if you can live without in-body image stabilization, the Fujifilm X-T3 is a much better buy – especially with $500 off! Its 26.1MP sensor is immensely capable for shooting stills, complete with Fuji's much-loved film simulations, and it also delivers 4K 60p or FullHD 120p for true slow-motion footage.
Read more:
Fujifilm X-T3 review
Fujifilm X-T4 review
Best Fujifilm camera
Best Fujifilm lenses