DJI has just announced the third generation Osmo Pocket 3, boasting a 1-inch sensor, 4K video, 2-inch rotating display, full-pixel focusing, and 10-bit recording, clearly aiming at the high end.
"With the Osmo Pocket 3, we've reimagined handheld imaging, offering users a creative tool that combines precision and portability like never before," said Paul Pan, senior product line manager at DJI. "We're eager to witness the incredible stories and moments our users will capture with this remarkable camera."
Alongside the new camera, and available in a bundle with it, is the first appearance of the new DJI Mic 2 – a battery-powered microphone similar to the DJI Mic, which can be used with the Pocket 3 without the need for an external receiver. (For now this is the only version of the Mic 2 available.)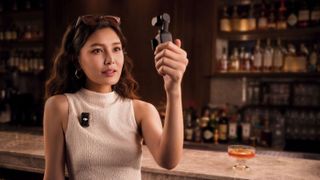 The new 2-inch display rotates, acting as a power switch in the process, and offers a viewing area 4.7 times larger than that of the DJI Pocket 2, as well as supporting full 100% P3 gamut.
The 1-inch image sensor – seemingly borrowing from the Osmo Action 4 – boosts low-light performance and can capture 4K video at up to 120fps. Recording can be in D-Log M, 10-Bit and HLG. The 3-axis gimbal also boasts ActiveTrack 6.0 with Face Detect and dynamic framing (so you don't need the face / tracked subject in the middle of the shot).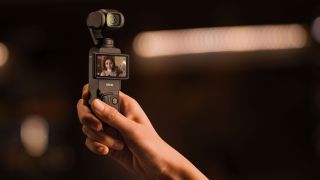 Social media creators will love the natural complexion and full-on glamour effects, and the device's rotating screen makes streaming or shooting in vertical format easier.
Vloggers also get support for their sound streaming / recording thanks to the three-microphone array in the device itself, which DJI says provides omnidirectional stereo recording. The option of the DJI Mic 2 makes it possible to capture clean audio from a presenter wirelessly (and gives the ability to remotely start and stop the camera).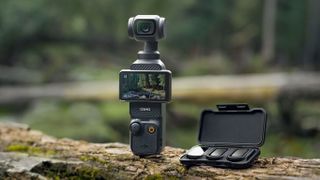 The DJI Osmo Pocket 3 will retail alone for $519 / £489 / AU$849 and will be available in the Creator Combo (including a case, battery grip, tripod, and a DJI Mic 2) for $669 / £619 / AU$1,129. The Battery Handle is $69 / £59 / AU$99 alone, and other accessories include a Black Mist filter set and a magnetic ND filter set.
You can read the full DCW verdict in our Osmo Pocket 3 review.
The Pocket 3 combines tech seen in the best gimbals for phones and the best action cameras, so you could consider checking out our separate guides. Gimbals are also found in all the best camera drones, a lot of which DJI are responsible for!