American accessory company Delkin Devices has announced that its arange of XQD cards are now ready to ship. With a speed rating of 2933x, the cards are designed for high-speed continuous shooting and for high-definition cameras. The cards will be available in 64GB, 120GB and 240GB options a couple of months after their original on sale date. A USB 3.1 XQD card reader has also been introduced.
The XQD card format is being used by Nikon's new full-frame mirrorless cameras the Z 7 and Z 6 – and in the Panasonic Lumix S1 and S1R full-frame mirrorless models that go on sale in March, and its performance makes it one of the best memory cards available right now.
Previously the card format had only been used by Nikon D850, D500, and D5 DSLRs – as well in some Sony XDCAM broadcast camcorders. At present, XQD cards are manufactured and sold solely by Sony. They offer far faster data transfer speeds that older memory card formats, such as SDXC or CompactFlash.
Testing in the Nikon D500 has shown that XQD cards take 47% more images (14-bit uncompressed RAW) than the fastest SD cards during a 10 second continuous shooting interval.
The prices for the cards will be £189.99 / $139.95 for the 64GB card, £289.99 / $229.95 for the 128GB card, and £579.99/ $463.35 for the 256GB.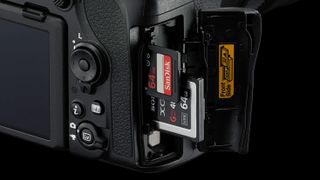 Delkin will also offer a unique built-in insurance policy for their XQD memory cards and will replace any non-working XQD card. "This covers the unthinkable, from salt exposure to even pet and child inflicted damage" Jenn Sherry, Delkin's Marketing Manager explains. "Should anything happen, just give us a call and we'll send you a brand new replacement card that you'll receive in less than 48 hours, along with a pre-paid shipping envelope to get your damaged card back to us."
The Delkin cards will offer a maximum write speed of 400MB/s, and read speeds of 440MB/s, and are XQD format Version 2.0 compliant.
Each of Delkin's XQD cards has a serial number – just like your camera and lenses. Delkin says that this helps improve customer support, and provides the extra protection and insurance. Owners can register their cards at www.delkindevices.com/xqd/.
Which cameras use XQD memory cards?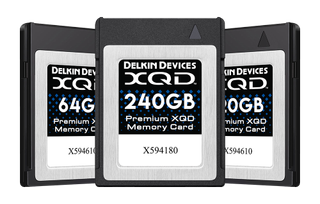 Cameras that use the XQD format:
• Nikon Z 7
• Nikon Z 6
• Nikon D850
• Nikon D500
• Nikon D5 (see deals)
• Nikon D4s
• Nikon D4
• Sony PXW-FS7
• Sony PXW-FS7M2
• Panasonic S1R
• Panasonic S1
• Phase One XF IQ4 series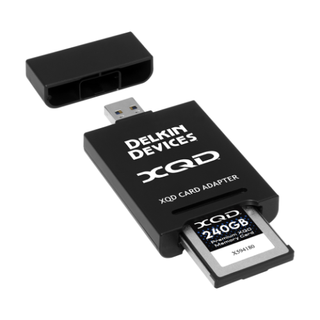 Delkin XQD Card Adapter
Delkin Devices has also started shipping a USB 3.1 XQD adapter. This XQD card reader offers a SuperSpeed+ USB 3.1 interface - which promises file transfer speeds of up to up to 10Gbps (2x faster than USB 3.0).
The reader sells at £39.99 / $
Buyers' guide: The best memory cards for your camera