Cokin's new NX-SERIES filter holder is an evolution of its Z-Pro and EVO systems and takes 100mm filters, the most popular size used by photographers. It's been specially developed for use wide-angle lenses without vignetting, and for long exposure photography, both of which are very popular with landscape photographers.
The new NX-SERIES filter holder is made from aluminium and can mount a polarising filter at the back, closest to the lens, with a built in adjustment wheel for precise positioning. Cokin says its polarizing filter is highly efficient, absorbing only one f-stop of light.
At the front of the NX-SERIES holder are two filter slots for graduated filters or neutral density filters for long exposures.
Interestingly, Cokin has opted for a filter frame system where filters are fitted into frames before being inserted into the holder. Cokin says this allows for easier handling, even while wearing gloves, and the filter frames are guided into their slots using ball bearings, which will also allow for smooth, precise adjustments.
These frames will come in three sizes: 100 x 100mm for square filters, 100 x 143.5mm for Cokin's own NUANCES Extreme graduated filters and 100 x 150mm for grads from other makers. Filters from other makers will need to be 2mm thick which, Cokin explains, is not a universal thickness but common – for example with the Little and Big Stopper from Lee Filters.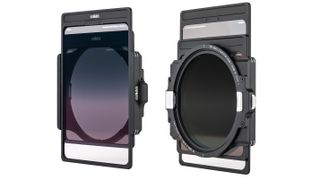 Cokin NX-SERIES with wide-angle lenses
If there's one thing landscape photographers love more than filters, it's wide-angle lenses, and Cokin has made great efforts to ensure they can use both.
The usual problem is that the thickness of the filter holder and the filters means that you can start to see vignetting at very wide focal lengths, where they are starting to intrude into the corners of the frame. This is made worse if you rotate the filter holder to change the angle of a grad to match a sloping horizon or hillside.
Cokin has, however, tested its new holder using a number of popular camera and wide-angle lens combinations. It reports no visible vignetting with the Sony FE 16-35mm f/2.8 on a Sony A7R II, the Canon EF 16-35mm f/2.8L III USM on an EOS 5D Mark III and the Fujinon XF10-24mm F4 wide-angle on a Fujifilm X-T3. It has also tested the NX-SERIES holder with the even wider Canon RF 15-35mm f/2.8 and Nikon Z 14-30mm f/4 wide-angle lenses, reporting slight vignetting at their minimum focal lengths and only if the filter holder is rotated by 45 degrees.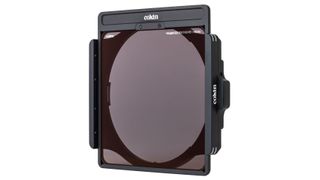 Cokin NX-SERIES price and availability
The new Cokin NX-SERIES will be on sale from late May 2021, and the components will be sold individually or in a series of kits. UK prices will be £99.99 for the NX filter holder and £79.99 for the matching polarizing filter.
There will also be five different kits:
• Starter Kit: Filter-holder, polarising filter, one frame 100x100mm, one frame 100x143.5mm at £219.99.
• Long Exposure Kit: Includes filter-holder, polarising filter, one neutral density NUANCES Extreme ND1024 10-stop filter (mounted in its frame ready to use) at £269.99.
• Landscape Kit: Includes filter-holder, polarising filter, one neutral density NUANCES Extreme ND1024 10-stop filter and one graduated neutral density filter S-GND8 soft, both mounted in their frames at £359.99.
• Expert Kit: The Landscape Kit with two additional NUANCES Extreme filters. One reverse-graduated filter R-GND8 (max 3-stops) and a brand new graduated neutral density filter with a "Hard" transition of 3-stops max, at £539.99.
• Professional Kit: Combines the Expert Kit with two NUANCES Extreme full neutral density filters ND8 (3-stops) and ND64 (6-stops) mounted into their frame, at £689.99
Read more:

• 10 things you need to know about camera filters
• The best neutral density filters
• The best ND grad filters
• The best polarizing filters
• The best variable ND filters
• The best protection filters for lenses
• The 50 best camera accessories
• Kase Wolverine Magnetic Circular Filters review