The Panasonic Lumix S1 is a fantastic full frame camera for those looking to capture both stills and video. Billed by Panasonic as the ultimate hybrid, the Panasonic S1 has a 24.2MP CMOS sensor, a high-resolution mode that produces 96MP images and 4K video with no recording time limit.
The Panasonic S1 combines the Body Image Stabilizer with 5.5-stop compensation power to give 6-stop 5-axis Dual Image Stabilization. This means that capturing telephoto shots and low-light situations without any camera shake suddenly become much easier.
• Read more: Best Panasonic cameras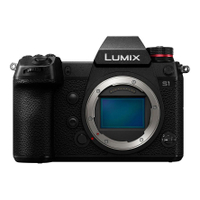 Panasonic Lumix S1: £1,799 after £400 cashback
Grab yourself the Panasonic Lumix S1 for just £1,799 from £2,199 with this £400 cashback camera deal. Plus, you even get a free Sigma MC-21 EF to L-Mount adaptor when you buy any Panasonic S1 Series camera!
In addition, the Panasonic Lumix S1 boasts a high-speed, high-precision autofocus of approximately 0.08sec. This autofocus also has -6EV luminance detection performance with Low Light AF thanks to the higher sensitivity and optimized tuning of the sensor. The S1 also incorporates Advanced AI Technology that detects specific subjects, such as humans and birds. The S1 is able to continue tracking these subjects even when they turn their back to the camera.
However, it's not all about photos with the Panasonic Lumix S1. You can also expect some serious oomph in the video department as well. The S1 offers 4K 60p/50p video recording, which will provide some fantastically high quality slow-motion footage for your next video.
While Black Friday may be looming on the horizon, we're not sure you're going to find a better deal on the Panasonic Lumix S1 than this £400 cashback deal!
Read more
Panasonic S1 and S1R: everything you need to know about the new Lumix range
Best Olympus cameras in 2019
Best Fujifilm cameras in 2019