It looks like Canon might have decided on its first RF lens update, with rumors pointing towards a Mark II version of the RF 70-200 f/2.8.
We have reported previously on Canon readying the first Mark II version of an RF lens. And while personally I was hoping for an updated Canon RF 28-70mm f/2L USM, it looks like the lens will in fact be a sequel to Canon's slightly divisive Canon RF 70-200 f/2.8 IS USM.
The original 70-200mm from Canon upset a few photographers by ditching the internal zoom that was a staple of the EF version of the lens. This made the lens a little harder to balance as it was extended, and required more careful consideration for positioning. However, rejoice, as the current reports suggest (courtesy of Canon Rumors) that the internal zoom might make a very welcome return.
Canon's first version of the RF 70-200mm trinity lens is also, strangely, not compatible with Canon's RF teleconverters. Despite being released sometime before the teleconverters were, it still seems like a big miss for Canon as this is a popular focal length to adapt to give up to a 140-400mm focal length. The latest rumors don't say specifically that this is something this lens will address, but it seems like the perfect opportunity for Canon to make the upgrade.
The RF 70-200mm f/2.8, however, despite its drawbacks was still an exceptional lens, offering exceptional sharpness and beautiful bokeh and low light ability, all while being smaller and lighter than the EF version.
If Canon can somehow find a balance between keeping the elements that made the first lens so great while improving its function, then this lens sounds like it could be everything the original should have been.
This might not be the next lens we see launched from Canon, with sources pointing towards a release in 2024, quite possibly before the Olympics. There are lots of other optics that might come before then, with previous rumors suggesting we might see up to ten new Canon lenses in the upcoming months (although a lot of these turned out to be cine lenses announced recently at IBC).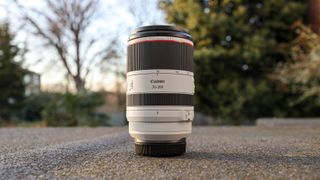 Check out our top picks for the best Canon RF lenses and the best Canon camera.