We can barely keep up with the rumors coming in about new Canon cameras and lenses – and they are showing no signs of slowing down any time soon, with a new patent being uncovered for three brand-new lens designs from Canon.
Canon has been knocking it out of the park recently, and already makes some of the best mirrorless cameras and some incredible RF lenses, so it is always very exciting to see what more it might have in store.
• Check out the latest camera rumors to see what 2023 might have in store
The hardworking detectives at Canon Watch have discovered patent 2023005851, which discusses the optical formulas for three separate lenses. As Canon has effectively ceased development of new EF lenses, logic would dictate that these patents are for the RF mount.
Canon Watch has very helpfully deciphered the complex patent jargon to determine that the lenses described would be a Canon RF 10-20mm f/4, Canon RF 9-18mm f/4, and a Canon RF 11-22mm f/4 – the latter of which has already been rumored as a possible launch companion for the Canon EOS R8 in February, although previous reports cited a variable aperture of f/4-5.6 (similar to the existing EF-M lens).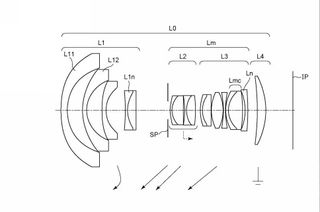 However, one factor draws us away from this being a forgone conclusion; the constant f/4 aperture is a strong signal that this would be a professional L-series lens, as Canon's more affordable lenses (especially the most recent RF-S lenses) have variable apertures throughout the zoom range. A constant aperture is a big selling point for Canon's pro zooms.
This can be seen throughout Canon's lens lineup, from the standard zoom Canon RF 24-105mm f/4-7.1 IS STM, compared to the professional Canon RF 24-105mm f/4 L IS USM. Or the affordable Canon RF 15-30mm F4.5-6.3 IS STM, versus the professional L-series Canon RF 14-35mm f/4L IS USM.
The patent description also notes that, "an object of the present invention is to realize a negative lead zoom lens that is compact and has a wide angle of view and yet has high optical performance in a wide zoom range."
This might also suggest this is going to be a premium optic, as this is something that we have not yet seen released in a lens. A negative lead, according to Canon's previous patent for a 24-70mm f/2.8 lens, would use negative refractive power to make the lenses shorter and much more compact.
As ever, not all patents make it to the product stage, but this provides a fascinating insight into the design thought process – and a tantalizing look at what might be on the way. And with Canon now enjoying 37 consecutive years as a top 5 patent leader, there will be plenty else on the way too!
You can keep up with all the latest rumors in our Canon rumors hub. You can also read our guides for the best Canon camera, the best Canon RF lenses, and the best Canon lenses for RF, EF, and EF-M.