Canon has revealed its brand-new Canon RF 70-200mm f/2.8L IS USM lens – a remarkably compact telephoto zoom lens ideal for wildlife and sports, with an amazing telescopic design that makes it 27% shorter and 28% lighter than the EF version of the optic.
Keen to rapidly mature the RF lens line-up, the Canon RF 70-200mm f/2.8L IS USM sits alongside the recently released Canon RF 15-35mm f/2.8L IS USM and Canon RF 24-70mm f/2.8L IS USM – all of which boast five stops of image stabilization and Nano Ultrasonic Motors, completing the 'holy trinity' of lenses for Canon's full-frame mirrorless systems.
This is the first time that Canon has employed dual Nano USM technology – meaning that two Nano USM motors are responsible for moving different lens groups inside the barrel, which work together to reach autofocus faster and more efficiently. Interestingly, this tag team makes the lens more power-efficient than a single Nano USM motor.
Nano USM, paired with an Electronic Floating Focus system, enables the minimum focus distance to be reduced, too – it is just 70cm, down from 1.2m on the Canon EF 70-200mm f/2.8L III for the company's DSLR cameras.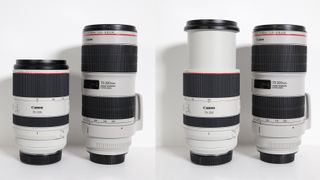 The new telephoto is significantly smaller and lighter than the EF version of the lens, weighing in at 1,070g compared to the 1,480g of its predecessor, and when collapsed down to its shortest focal length of 70mm it has a length of 146mm, compared to 199mm on the DSLR equivalent.
It does, however, extend to a similar length as the EF 70-200mm at its maximum zoom of 200mm – but its smaller profile at the 70mm mark certainly makes it easier to fit in a camera bag.
The lens has a construction of 17 elements in 3 groups (the EF 70-200mm f/2.8L IS III USM features 23 elements in 19 groups, thanks in part to the additional projection required to reach the mirror box). It also features a Subwavelength Structure Coating – nanometer-sized structures on the surface of the lens, designed to supress reflections and reduce flare.
Weather sealing comes as standard with Canon's top-flight L-series optics, but for the first time a perforated seal has been added to the moving inner barrel to enable air movement (and prevent pressure build-up) while keeping dust and moisture out.
The Canon RF 70-200mm f/2.8L IS USM is available in early December for £2,699.99 ($3,485.25).
Read more:
Canon EF 70-200mm f/2.8L IS III USM review
Canon RF lens roadmap: everything we know so far
Canon EOS R review
The best Canon lenses
The best 70-200mm lenses