Photographers of all abilities can always learn something new from shooting in Manual mode – that's why it's this month's cover feature.
Remember that if you can't get to the shops to buy a copy, then you can buy Digital Camera online.
Plus, we're also running a lockdown-friendly six issues for just £9.99/$9.99/€9.99 promotion. Don't delay – subscribe today!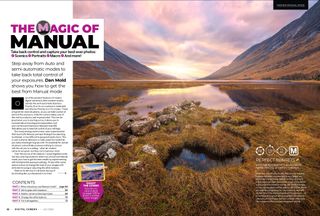 And while we cover some techniques for shooting outdoors – timely now that lockdown continues to ease – we're still dedicated to photography that can be done indoors.
This month's Stay at Home section shows you how to tether your camera for remote shooting, sanitise your camera equipment and choose a photo website-building service.
And staying with indoor photography, you can win a £1,000 Click Props Backdrops gift voucher in our latest competition… plus, every entrant gets a 25% discount voucher for use on any Click Props backdrop purchased through its online store.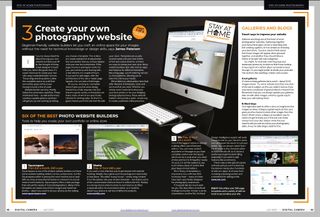 For photographic inspiration, you can rely on our dedicated projects section, Photo Active.
This issue, learn how to use digital backdrops, find out how a leading pro has re-skilled as a garden birds photographer during lockdown, and bring yourself up to speed with our 101 on Instagram hashtags and insights.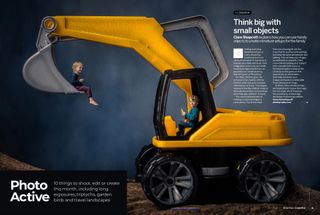 More visual treats are in evidence in our Hotshots gallery, where six of the best images from the GDT Nature Photographer of the Year 2020 awards are on display.
We also speak to Tom Oldham, winner of the Open category in the Sony World Photography Awards 2020 – his black and white image of rock star Black Francis is our Shot of the Month.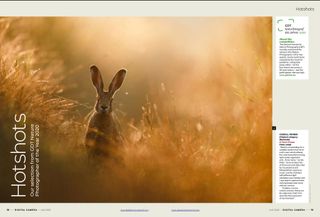 A focus on monochrome continues in our Q&A interview, where Adam Cooper reflects on the work of his father Michael, a leading figure on the Sixties London art scene, and what it's like to inherit an archive of 70,000 photographs.
Not every photographer would have to edit that amount of images in a lifetime. But if they did, they'd benefit from some of the essential techniques in Practical Photoshop.
This month, learn how to perform perfect crops in Lightroom, work with filters in Affinity Photo, and master Channels in Photoshop.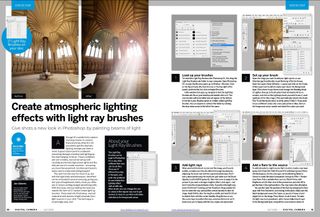 July's camera reviews start with the Nikon D6, the brand's latest flagship DSLR, while Fujifilm's X-T4 also comes under scrutiny.
Lenses on test this issue include new glass from Laowa, Sigma and Sony, and we recommend the best optics for landscapes in our group test. And don't buy a new ball head for your tripod without reading our Mini test first.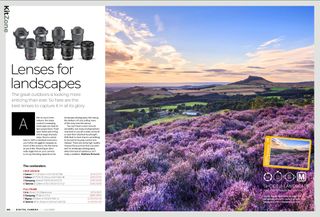 The new issue of Digital Camera comes with a fabulous selection of digital gifts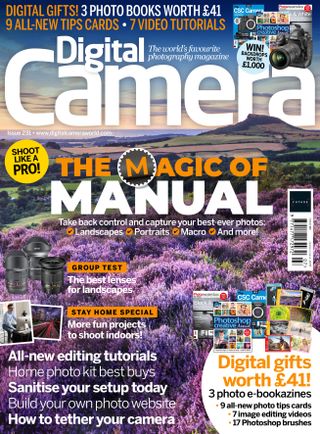 The latest issue of Digital Camera comes with a fantastic selection of digital gifts – there'll be something of interest, whatever type of photography you shoot.
Here's this issue's bonus digital gifts in full:
Three photo e-books worth £41, covering black & white, Photoshop and CSCs
Nine all-new photo tips cards on nature, landscapes, action – and more!
17 light ray brushes for Photoshop, for adding some sunshine to your images
36 minutes of video tutorials on image editing in Photoshop and Lightroom
222-page Camera Buyer's Guide ebook packed full of buying advice

Subscribe now
Every issue of Digital Camera magazine is packed with tips, techniques, pro advice, reviews, news and inspiration.
To make sure of your copy every month, subscribe at our online shop from just £12.50!
You can buy limited back issues of Digital Camera magazine in print at our MyFavouriteMagazines secure store.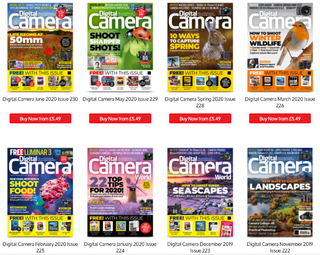 Alternatively, there are a number of different digital options available, including:
• Apple app (for iPad or iPhone)
• Zinio app (multi-platform app for desktop or smartphone)
• PocketMags (multi-platform app for desktop or smartphone)
• Readly (digital magazine subscription service)