The winners of the 2020 Julian Gardner Awards for nature and wildlife photography have been announced. Jenny Hibbert, who photographed two mountain hares in Scotland, was the winner of the adult category. Sixteen-year-old Katy Read scooped the prize in the junior section with a close-up of a robin with its feathers fluffed up against the cold.
Jenny Hibbert, from Port Talbot, Wales, said, "It was taken in the Cairngorms in February at around 10 am. It was a very cold day and extremely windy. It was hard going walking up the mountain: we would spot a hare but of course, it spotted us too and ran even higher. I started to think I wish I was photographing red squirrels instead of climbing the cold windy mountain. We eventually stopped and to our astonishment, the hare had run-up to another mountain hare, who certainly wasn't very happy to see it. The two hares boxed and our hare was chased off."
The image was shot with a Canon EOS-1D Mark IV fitted with a 300mm f/2.8 lens andd a 2x teleconverter. The exposure was 1/1000sec at f/5.6 at ISO800.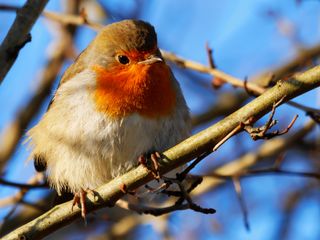 Junior winner, Katy Read from Newcastle, said, "I'm delighted to have won! I took the picture on a crisp day at a local reserve. Robins are popular birds to photograph, but I hadn't seen one so fluffed-up against the cold before. I was very happy to get the focus and the framing just right."
Her image was shot with a Panasonic G80 fitted with a 100-400mm zoom, with an exposure of 1/250sec at f/9 at ISO400.
Remarkably Katy also won the 2019 Julian Gardner Awards junior category, capturing a dunnock bathing in the rain.
The Julian Gardner Awards are run by the Game & Wildlife Conservation Trust (GWCT) and are open to amateur photographers. The competition was launched seven years ago in memory of Julian Gardner, a Sussex farmer and lifelong supporter of the GWCT. A donation from Julian's family and friends enabled the GWCT to buy the two trophies, which are presented to the winners to display for the next year. The adult winner's trophy is a sculpture of a hare, while the junior winner's trophy is of a leveret, both designed by Claire Abbatt. The winners also receive large prints of their winning photographs, as well as seeing them published in the GWCT's membership magazine.
The GWCT is now inviting entries for the 2021 Julian Gardner Awards. The competition closes on 30 June 2021.
Read more
NHM Wildlife Photographer of the Year 2020
Best lenses for bird photography