The Asus ROG Phone 3 has officially been launched with a whole host of impressive specs designed to tempt hardcore gaming fans. This third generation gaming camera phone has the newly unveiled Snapdragon 865 Plus chipset, an AMOLED 10-bit display with a super-responsive 144 Hz refresh rate and a powerhouse 6,000 mAh battery.
The Asus ROG Phone 3 also features the GameCool 3 cooling system to help engineer the phone to deliver non-stop ultra smooth performance. Meanwhile, the Qualcomm Snapdragon 865 Plus SoC means the Asus ROG Phone 3 will be capable of supporting 5G.
• Read more: iPhone 12: Everything we know so far
The recently unveiled Snapdragon 865+ is the first mobile chipset to surpass the 3GHz CPU clock speed ceiling, achieving a 10% increase increase compared to the 2.84GHz frequency of the original 865.
The Snapdragon 865+'s Adreno 650 CPU has also received a clock boost, which means that it has a 10% better chance of hitting the required game frame rates to make the best use of the impressive 144 Hz screen refresh rate. Including the 865+ in the Asus ROG Phone 3 will mean that we'll see an even more impressive and powerful performance from this gaming phone.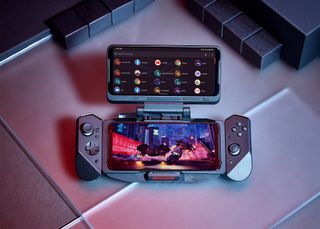 The Asus ROG Phone 3 will have a 6.59" OLED display and will also feature up to 16GB of the latest LPDDR5 RAM and up to 512GB UFS 3.1 ROM. It'll also have a groundbreaking new ROG HyperFusion technology that will combine with multi-antenna WiFi and 5G to allow simultaneous connections to WiFi and the mobile network. The phone will then intelligently decide which has the best signal so that gamers can enjoy the best possible connection.
So far there doesn't appear to be any official word on release dates or pricing for most territories. However, there has been pricing released for Norway. There will be three versions of the Asus ROG Phone 3, a 12GB of RAM / 512GB of storage version for 10,999 NOK (which translates to around £950 / $1,200 / AU$ 1,680), a 16GB of RAM and 512GB of storage Limited Edition version for 11,999 NOK (£1,030 / $1,300 / AU$1,840) and an Asus ROG Phone 3 Strix Edition with 8GB of RAM and 256GB of storage for 9,499 NOK (£820 / $1,040 / AU$1,450).
Read more
Best lenses for iPhone and Android phones: add on phone lenses
Best budget camera phone: these are the best cheap camera phones right now
Best iPhone for photography: from the iPhone 7 Plus to 11 Pro
Best camera phone: what's the best smartphone for photography?