Whether you shoot photos or videos, having a powerful laptop is essential for content creators who need to use powerful software such as Adobe Premiere or Capture One.
Asus has always produced some of the best laptops for video editing and the best photo editing laptops, and now it is back to launch a new stable of laptops aimed at content creators. These are all powerful new portable beasts capable of editing photos and videos on the go. Asus is known for its OLED screens, and all the newly announced OLED laptops boast the latest OLED screen technology. OLED offers a big step up for creatives, with beautiful richer colors and deeper contrast, so this is a must-have for creatives to see their work in its full splendor.
Asus has something very exciting for this year's models, Asus Spacial Vision is its latest screen technology that offers full 3D images without any glasses or other wearables. This is made possible using a lenticular lens and advanced eye-tracking camera technology, enabling the display to weave distinct images for each eye, resulting in an autostereoscopic 3D image.
3D technology is rapidly growing in popularity as tech companies increasingly push AR and VR technology, such as Meta's big metaverse push or Canon's unusual dual fish-eye VR lens. This will allow creators to make and view objects instantly that can be viewed or interacted with in 3D.
ASUS ProArt Studiobook 16 3D OLED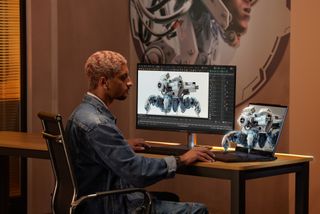 ASUS ProArt Studiobook 16 3D OLED is the world's first 3D OLED mobile workstation. The laptop boasts a brand new glasses-free 3D OLED display enabling creators to create and view 3D photos, videos, and other applications, fully realized in three dimensions. Using ASUS Spatial Vision technology users can automatically convert 2D content to immersive 3D in real-time.
The laptop has a certified color accurate 3.2K 120Hz OLED screen that flips down to lie flat, offering 180-degree viewing angles. There are configuration options up to a 13th Gen Intel Core i9-13980HX processor, NVIDIA GeForce RTX 40 Series GPU, up to 64 GB of memory, Thunderbolt 4 ports, and SSD storage, making this a very powerful creative machine.
The laptop comes in a Mineral Black finish and features Asus' combination of stylus-compatible haptic touchpad and dial rotary control system that enables price editing control. The design also allows the laptop screen to lie flat, offering any viewing angle up to 180°.
ASUS Vivobook Pro 16X 3D OLED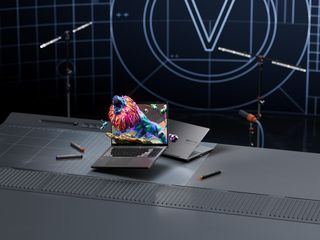 Asus has brought the latest 3D screen technology to its midrange Vivobook series in the ASUS Vivobook Pro 16X 3D OLED. Also featuring a 3D OLED 3.2K 120 Hz display including ASUS Spatial Vision technology you can view and create wearable-free 3D content.
This powerful laptop is aimed at creators demanding the most power from their machines. With up to a 13th Gen Intel Core i9-13980HX processor, 64 GB DDR5 RAM, NVIDIA GeForce RTX 40 graphics, super-fast SSDs, and an overhauled ASUS IceCool Pro cooling system, up to 150W of raw power can be utilized for editing image, video, and 3D content.
Vivobook Pro 16X 3D OLED is also available with a 2D OLED screen for those creatives that want a powerful machine, but don't require 3D.
ASUS Zenbook Pro 16X OLED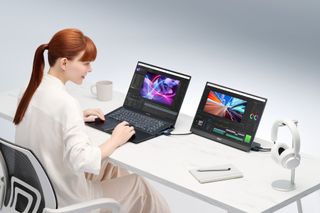 ASUS Zenbook Pro 16X OLED is Asus' latest mobile workstation, featuring the unique design of its raised keyboard, which Asus calls Active Aerodynamic System Ultra (AAS Ultra), for more comfortable typing and better laptop cooling. The keyboard also has an innovative lighting system that offers guided interactivity features. As well as this, the laptop features Asus' dial allowing precise editing features in apps such as the Adobe suite of software.
In terms of specifications, the ASUS Zenbook Pro 16X OLED has a 16:10 3.2K 120Hz OLED HDR NanoEdge touchscreen, up to 13th Gen Intel Core i9-13905H processor, NVIDIA GeForce RTX 40 Series GPU, and 32 GB of fast LPDDR5X DRAM.
Asus has partnered up with Intel to produce a unique chip for this laptop, the ASUS Supernova System-on-Module (SoM) design. This new design allows Asus to reduce the motherboard area by 38%, allowing more space for graphics cards and components including an enhanced cooling system, allowing the laptop to run at up to 155W. This allows content creators to run the Zenbook Pro 16X harder and for longer without it slowing down.
ASUS Zenbook Pro 14 OLED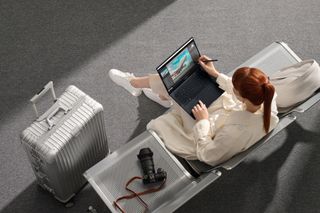 ASUS Zenbook Pro 14 OLED is aimed at creators who want to be able to power through editing while keeping their laptop light and easy to travel with, offering WiFi 6E and a 76Wh battery.
Weighing in at 1.65 kg and measuring under 1.8 cm thick, the Zenbook Pro 14 OLED offers a light and compact chassis, but still packs in the power with up to the latest 13th Gen Intel Core i9-13900H processor, NVIDIA GeForce RTX 40 Series GPU, 16 GB of speedy DDR5 RAM, and a 2 TB SSD.
The screen is the star of the show for creatives, offering a 2.8K 120 Hz OLED NanoEdge Dolby Vision display, Asus premises jaw-dropping detail, super-smooth motion, and ultra-vivid colors. The screen is also Pantone Validated for color accuracy and has a cinema-grade 100% DCI-P3 gamut, so you can be confident that whatever you are editing will be able to be viewed in the perfect color.
Furthermore, the Zenbook Pro 14 OLED includes the ASUS DialPad for precise editing control and support for using the optional ASUS Pen.
Check out all the latest announcements from CES 2023. You can also read our guides for the best laptops for video editing, the best photo-editing laptops, best monitors for photo editing.