The best OLED laptops produce incredible image quality, being a cut above even the best LCD screens. They manage this by using a fundamentally different display construction, where the each pixel emits its own light.
Contrast this to a conventional LCD display, which relies on a separate backlight to shine through the pixel layer. The end result of this is OLED (which stands for organic light-emitting diode) displays have far better contrast.
That makes them great for HDR viewing, along with more vibrant color and better color gamut coverage. It's also not unusual for an OLED display to cover a full 100% of the demanding DCI-P3 video gamut, something most LCD displays struggle to achieve.
Of course, there's more to a laptop than just the display. Aside from the screen, OLED laptops are the same as any other laptops, so consider the size and power requirements you'll need for your workload. If you're not sure what you need, skip ahead to How to choose the best OLED laptop for details.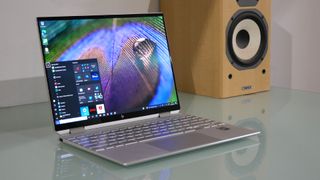 Think carefully before you take the HP Spectre x360 14 OLED for a spin. Because once you see its fabulous 13.5-inch OLED display in action, you won't want to go back to a boring old LCD panel. It really is that spectacular. You get dramatically better response, contrast and viewing angles than pretty much any LCD panel.
Other highlights include excellent build quality, genuinely usable tablet functionality, a bundled input pen with inking support, great battery life and good connectivity for this class of device. Indeed, HP has paid attention to pretty much every element of this snazzy little laptop, including pulling in Bang & Olufsen to handle the speakers and including facial recognition with Windows Hello support.
We found performance to be solid from the Intel Core i7-1165G7 CPU/ 16GB RAM combo we tested, making light work of dealing with batches of RAW images. Just don't expect the last word in outright processing firepower – you'd need something much bulkier and less power-efficient for that.
Read more: HP Spectre x360 14 review for more details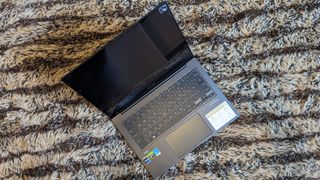 The ZenBook 14X OLED impresses right out of the box thanks to its awesome HDR OLED screen. Its 14.5in diagonal, 16:10 aspect ratio and 2880x1800 resolution mean it's tack-sharp and just about large enough to work on while traveling, though you're going to want an external monitor for anything that requires a wider perspective. The screen has a 120Hz refresh rate and up to 600 nits of brightness, and it covers the sRGB and DCI P3 color gamuts. It's even Pantone certified.
You can choose from several different performance configurations, but we reviewed a top-end model equipped with an Intel Core i9-13900H processor, 32GB RAM and GeForce RTX 3050 graphics – plenty of firepower for intensive image or video editing. Despite this, we still found battery life to be very good, with the 70Wh cell inside capable of slightly more than eight hours of constant light work.
Read our full ASUS ZenBook 14X OLED review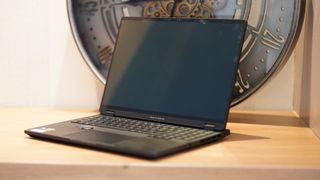 If you want a laptop mainly for photo or video editing, you won't just want a beautiful screen; you'll want powerful specs that can keep up. And this laptop, new for 2023, delivers both those things.
In tests, our reviewer found that in the configuration we were sent (13th-gen Intel i9 processor, 64GB of RAM, and an Nvidia GeForce RTX 4070 GPU), Photoshop and Lightroom flew along, with enough graphics processing power to provide significant hardware acceleration, and the 32 addressable threads speeding up parallel tasks in Lightroom such as exporting and generating smart previews.
The main downside was that battery life takes a hit, which is always going to be the case with seriously powerful laptops. But if speed is more important to you than portability, this is well worth considering.
Read our Asus ProArt Studiobook 16 OLED review for more details.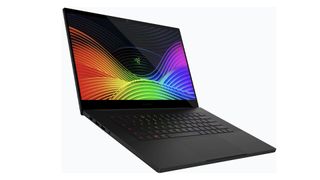 The Razer Blade 15 is special in that it features an optional OLED display rather than a traditional LCD. With deep, inky blacks and punchy, vibrant colors, it looks incredible, and with its 4K resolution equating to a pixel density of 282 ppi, it's super-sharp – perfect for editing your UHD content on.
With a hugely fast Nvidia GeForce graphics card under the hood, it's up to the task when it comes to even the most demanding projects, and when you consider how many ports this thing has – three USB-A ports, two Thunderbolt/USB-C, one HDMI 2.1 port, and a headphone jack – it's versatile too. If you opt for the base version, you even get an Ethernet port for fast, wired internet, while the Advanced models trades this for a useful SD card reader instead.
The Razer Blade 15 comes with a 512GB or 1TB SSD for storage, and the Advanced model can even be optioned with a 2TB SSD. A lightweight sub-2.2kg design and sleek finish set the Blade apart externally.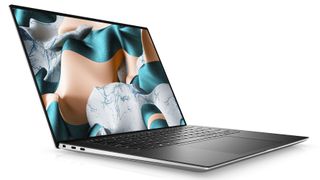 The popular, longstanding Dell XPS 15 can now be specced with an OLED display, and that's very good news for imaging enthusiasts, as this is the finest laptop screen tech money can buy. An OLED display means deeper blacks, wide color gamuts, and excellent contrast ratios as well as HDR support.
The XPS 15 also has an SD card slot, and up to Intel Core i9 power, not to mention up to a huge 64GB RAM – and with up to 2TB solid state storage it's also an ideal machine to have when ingesting gigabytes of 4K content.
While its Nvidia GeForce RTX 3050 Ti graphics card isn't going to stack up against some of the top-tier competition, thanks to Thunderbolt 4 connectivity you can supplement it with an external, desktop GPU for more demanding projects – and for quick edits on the fly, it'll be more than up to the task.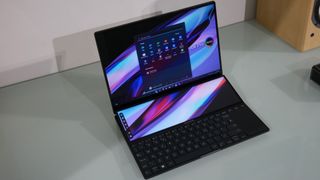 Unusually for an OLED laptop, the big talking point with the ZenBook Duo isn't its gorgeous OLED screen, but rather the huge touch-sensitive secondary screen just above the keyboard. Asus calls it the ScreenPad Plus, and you can use it as a genuine secondary monitor to display another app to that on the main screen, or it can be split into two or three columns, each containing a different open app. There's even a screen extension function that lets you spread a single app over both screens. In our testing we found the shallowness of the secondary screen does limit its utility. It's not hugely comfortable for web browsing or even for an email client. Really, the second screen works best as a location for toolbars, timelines, palettes and other screen furniture in your favorite content creation applications.
This main monitor is a 14.5-inch display, which in the case of our review sample features stunning OLED display technology with 100% DCI-P3 color space coverage, 550-nit max brightness and eye-popping contrast. It proved to be an absolute pleasure to use, with incredibly punchy contrast and excellent default calibration. The 2,800 by 1,800 native resolution also makes for good pixel density and nice, crisp fonts. Oh and the 120Hz refresh makes everything feel really fluid and also improves response when using a stylus. We did find some slightly visible graining under very close scrutiny, but that was probably down to the OLED panel's touchscreen digitizer.
Add a potent 12th-gen Intel Core i9 processor to the mix, along with up to 32GB of RAM, and the ZenBook Pro 14 Duo can be a seriously powerful editing machine. Dual Thunderbolt 4 ports are bang-up-to-date, plus there's the handy inclusion of one conventional USB Type-A port, along with an SD card reader, HDMI port and a headphone socket.
Downsides? The ergonomics of the keyboard and trackpad are not ideal. We weren't impressed with the mediocre battery life, either. But if your workflows can benefit from the dual screens here, The ZenBook Pro 14 Duo could still be well worth the trade-offs.
Read more: Asus Zenbook Pro 14 Duo full review for more details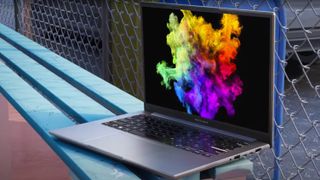 Here's something very special: an affordable laptop, but one sporting an ultra-premium OLED screen. The 15.6" display in the VivoBook 15 OLED has a sky-high 2880x1800 resolution and huge 600-nit max brightness, along with 100% DCI-P3 color support – that's simply amazing, and perfect for precise image or video editing.
A huge range of processor and RAM configurations are available, but we reckon an Intel Core i5 or AMD Ryzen 5 version is a good sweet spot for performance at an affordable price.
Go for an Intel offering and you'll also be treated to extras like super-fast Thunderbolt 4 connectivity. Impressive stuff for a budget laptop.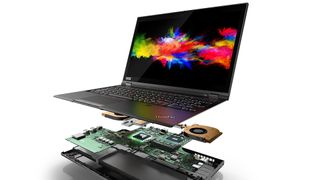 If you're running a business and your video editors don't need MacBooks (much as they might want them), the Lenovo ThinkPad P15 Gen 2 is a traditional-looking laptop with incredibly capable internals. Even the 'entry-level' version would be a pro machine for most, with 16GB RAM and an 8-core Intel i7 processor, but you can spec up the p15 to the moon and get a supercharged version capable of tackling huge 4K masterpieces. The P15 Gen 2 really is as versatile as your business needs it to be.
One of the only laptops on our list with an Ethernet port, the latest version also features two Thunderbolt 4 ports and an optional Nano-SIM tray for fast 4G speeds on the go.
For editors working with HDR content the P15 Gen 2's optional Dolby Vision 4K touch OLED display is the screen of choice for reviewing HDR content. And with a huge choice of customization options (with up to 128GB of RAM is possible, along with an incredible 6TB storage space courtesy of three separate SSD drives!) this laptop will fly through edits and give you plenty of space to store them.
How to choose the best OLED laptop for you
Why you can trust Digital Camera World Our expert reviewers spend hours testing and comparing products and services so you can choose the best for you. Find out how we test.
Are there any downsides to OLED laptops?
OLED displays have been known to suffer from 'burn in'. This is where image elements that remain in the same place on screen for a prolonged period – such as the Windows taskbar – can leave a halo-like ghost outline when you switch content to a game or video, and the ghosting may even be visible when the display is powered down. That said, manufacturers do have ways to prevent burn-in, with experience gained from the TV and smartphone sectors, both of which have used OLED displays for longer than in laptops.
What size laptop should I buy?
Laptops are meant to be portable, so it can be tempting to get the smallest, thinnest, lightest machine out there. However, while 13-14" laptops are indeed great for travel, that small screen size can soon feel frustratingly restrictive for longer image/video edits.
The best 17-inch laptops are the exact opposite: great for a more comfortable Photoshop experience, but big and heavy to lug about town. 15.6-16" laptops offer the ideal compromise, and are large enough to house a big battery, too.
What processor (CPU) do I need?
Laptop processors – the 'Intel' or 'AMD' entry on the specs list – are at the heart of a laptop and are a major factor that determines its speed. However, there's a bewildering range of different processor models, with naming/numbering conventions that don't always have a logical connection with their real-world performance.
Generally, Intel processors will be called Core i3, i5, i7 and i9. The bigger the number, the faster the performance. However there can be crossover between models, as some faster i5 processors can outperform slower i7 chips – great! AMD has adopted a similar number convention to Intel, with their CPU line-up called Ryzen 3, 5, 7 and 9 processors. Again, the higher the number, the faster... usually.
We'd recommend a Core i5 / Ryzen 5 CPU as the minimum for image or video editing, with the highest number of processor cores you can afford: the more cores, the more a processor can work on at any one time. Just bear in mind that the faster the processor, the more power it'll consume, and the faster your battery will drain. For an idea of how different processor models will perform, check out this handy chart from PassMark.
How much RAM (memory) do I need?
The amount of RAM determines how fast your laptop can be 'fed' with work. You can have the fastest processor in the world, but if it doesn't have enough RAM to feed it the data to process, the computer will have to fall back on the hard drive/SSD for temporary data storage, leading to frustrating slowdowns.
There's really no downside to having more RAM, so buy the most you can afford. 16GB is a bare minimum when editing larger files, with 32GB being a safer amount for a future-proofed editing machine. And don't rely on being able add an extra stick of RAM yourself further down the line. Many new laptops have RAM permanently soldered in, so the amount you spec at purchase is the amount you're stuck with.
Storage and connectivity
Laptops now pretty much always use an SSD for data storage; they're way faster than an old mechanical hard disk drive. As with RAM, buy the largest capacity you can afford. However storage can be easily increased after purchase with one of the best external hard drives or best portable hard drives. The only thing to bear in mind with this upgrade path is the speed and extent of your laptop's connectivity. Generally most new laptops will have at least one USB 3.2 / Thunderbolt 3, or USB 4 / Thunderbolt 4 connection. Either will be plenty fast enough to run an external hard drive to the max. Generally, the larger the laptop, the more physical USB ports it'll have. That's useful when connecting multiple peripherals, like an external keyboard, mouse and secondary monitor.
Do I need a fancy graphics card?
Many budget laptops lack any dedicated graphics processor, relying instead on the main processor (CPU) to do double duty. This can actually be fine if you don't do any gaming or much video encoding. But if you are a keen video editor, a dedicated graphics processor will likely speed you your encoding times. This doesn't need to be a top-end model, as these have most benefit for gaming. We'd recommend a mid-range model like a NVidia GeForce 3050 or 3060, as this should give you a healthy amount of encoding speed without costing a fortune.