Apple fans, buckle up: the fastest-ever MacBooks are about to launch. The new 2023 MacBook Pro 14" and 16" replace the 2021 models of the same size, and though they're externally almost identical, they pack a major new hardware upgrade within. Out go the old M1 Pro and M1 Max chips, replaced by the brand new M2 Pro and M2 Max system on chips.
Since the launch of the latest 13-inch MacBook Pro with its standard M2 chip, we've been in the somewhat confusing situation where the latest MacBook with the newest Apple silicon wasn't actually the fastest MacBook, as the older M1 Pro and M1 Max were still more powerful. Now order is about to be restored to the Apple silicon hierarchy:
Read more:
MacBook Pro 14" (2021) review
MacBook Pro 16" (2021) review
M2 Pro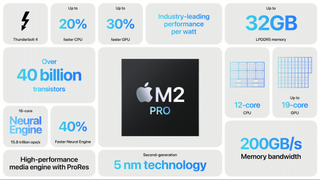 Featuring up to 12 CPU cores, the new M2 Pro chip has an additional 2 cores over the M1 Pro, and its maximum 19-core GPU is an improvement over the 16-core M1 Pro GPU. Unified memory specs (Apple silicone's version of RAM) remains the same, with 16GB or 32GB capacity options and 200GB/s memory bandwidth.
Apple is claiming the M1 Pro can handle up to 23 streams of 4K ProRes video playback, as well as 40% faster image processing in Photoshop. Overall, the M2 Pro is said to have 20% faster CPU performance and 30% increased GPU speed over M1 Pro. The machine-learning neural engine also gets a 40% speed boost.
See also Mac Mini gets major M2 power boost for 2023
M2 Max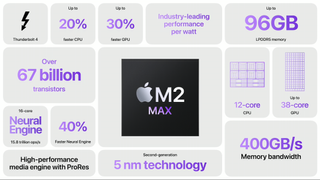 For the ultimate performance junkie, there's the new M2 Max chip. This boosts memory to a huge 96GB maximum (a healthy increase over the 64GB available with M1 Max), and also doubles memory bandwidth to a whopping 400GB/s. The 12-core CPU in M2 Max is the same as in the top-spec M2 Pro chip, but the M2 Max's GPU can be specced with up to 38 cores - double that of the M2 Pro, for up to 30% faster GPU performance over M1 Max. Compared to M1 Max, Apple claims a 30% faster color grading performance in DaVinci Resolve.
Power efficiency has also been improved, with the M2 Pro and Max capable of up to 20% greater CPU performance per watt and 30% more efficient GPU performance. Consequently, despite 70 watt-hour (14-inch) and 100 watt-hour (16-inch) batteries as the previous 14" and 16" MacBook Pros, battery life has increased by 1 hour for both. The 16-inch MacBook Pro is now rated to power up to 22 hours of Apple TV playback, which according to Apple gives it the longest battery life of any MacBook.
New MacBooks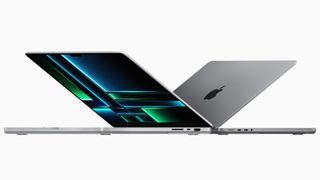 While the new M2 Pro and M2 max chips are a marked improvement over the M1 Pro and M1 Max, the new 2023 MacBooks are otherwise almost identical to their respective 2021 predecessors in virtually every area. Externally they retain the same exterior design and dimensions, identical screen specs, and the same storage capacity options, again topping out at 8 terabytes. In fact the only difference other than the main System on Chip is an upgrade to Wi-Fi 6E standard which is said to be up to twice as fast as the Wi-Fi 6 implementation in the previous Mac Pros, and the HDMI output has been improved to support up to 8K external displays.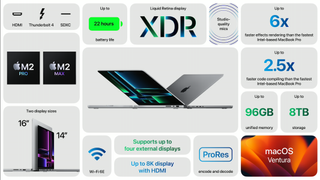 Pricing for the 2023 14-inch MacBook Pro equipped with a base 10-core M2 Pro chip specced with 16GB memory and 512GB storage starts at $1,999 / £2,149 / AU$3,199 and rises to $3,099 / £3,349 / AU$4,999 with M2 Max chip, 32GB memory and 1TB storage.
The 16" version starts at $2,499 / £2,699 / AU$3,999, equipped with a 12-core version of the M2 Pro, 16GB memory and 512GB storage, and climbs to $3,499 / £3,749 / AU$5,599 when specced with the M2 Max, 32GB memory and 1TB storage.
Fully equipped with the maximum 96GB memory and an 8TB SSD, a fully-loaded 16" M2 Max MacBook Pro will relieve you of a cool $6,499 / £6,749 (currently unavailable as an option in Australia).
Retail availability for the new 14" and 16" MacBook Pros starts on January 24. Start saving!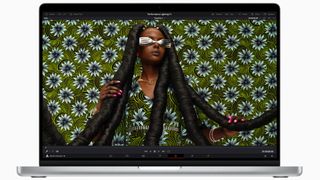 Read more:
• Best MacBooks
• Best student laptops
• Best Chromebooks
• Best Ultrabooks
• Best photo editing laptops
• Best laptops for video editing
• Best desktop computers
• Best Mac printer
• Best Mac webcam
• Best external hard drives
• Best monitors for photo editing
• Best USB-C hubs