UPDATE: A collection of Ansel Adams' rare photographs has sold for an incredible $6.4 million (approximately £4.74 million / 8.455 million), with a single photograph smashing the auction house record at $988,000.
"The Grand Tetons and the Snake River, Grand Teton National Park, Wyoming" (pictured below) was one of the star lots in the auction, and carried an estimate of $400,000-$600,000. Its ultimate sale price of almost a million dollars set a new Sotheby's record for an Adams print.
• Read more: 50 best photographers ever
The entire collection, entitled "A Grand Vision: The David H. Arrington Collection of Ansel Adams Masterworks", had an estimated value of around $4 million, so it smashed predictions even with 8 of the 123 prints going unsold.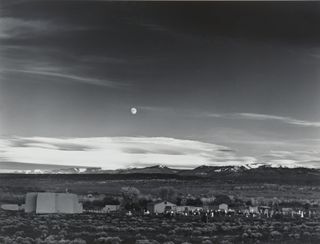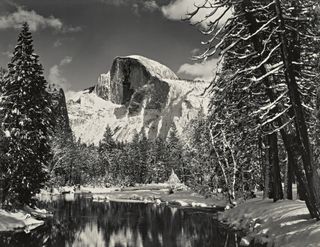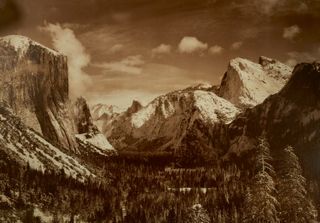 …
ORIGINAL STORY (07 Dec): A collection of rare photographs by Ansel Adams are going up for auction in New York next week, with an estimated value of over $4 million. The black-and-white prints are all taken by who is arguably the best-known landscape photographer who ever lived. The prints, many of which are printed by Adams himself, are split into some 121 lots, and will go under the hammer at Sothebys, New York, on 14 December.
A star lot in the auction is a very early print of Ansel Adams' "Moonrise", which he shot in November 1941 - which shows a cemetery caught by the setting sun, with the moon. The 9x12inch print is being sold with an estimate of $700,000 - $1 million.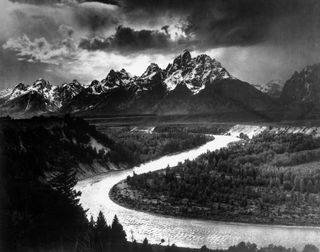 All of the works in the sale are part of a collection that has been put together by Texas oil baron David H. Arrington over the last 20 years – since Adams' death in 1984. Arrington will still own over 500 Adams prints after the sale, we are told.
Born in 1902, Ansel Adams is best known for his images of the American National Parks, and of Yosemite in particular. Some of the other high-priced prints in the sale are his famous mural-sized prints. His picture of The Tetons and The Snake River, for instance, measures some 38x51 inches - and has an estimate of $400,000-$600,000.
You can see all the lots, and register to bid, at the online catalogue.
Read more:
How Ansel Adams changed photography forever
The best coffee table books on photography
100 great quotes from great photographers