If you're in the market for a new gimbal, then you might want to hold onto your hat – the DJI Ronin-S is now on sale for only $399, which is a $160 discount on its original $559 price! A good gimbal stabilizer can be worth its weight in gold to videographers, as it allows you to capture smooth footage without any risk of camera shake.
The DJI Ronin-S is a miniaturized version of the larger Ronin gimbal stabilizers for cine cameras. It's perfect for use with DSLRs and mirrorless cameras, which means that you can capture professional-looking video footage with the camera you've got stowed away in your kit bag.
• Read more: Everything photographers need to work from home
The DJI Ronin-S has a three-axis motorized gimbal stabilizer that's capable of an eight-pound payload capacity. The gimbal has a front trigger, a rear mode button and a joystick, which all work together to help you obtain the shots you need.
The DJI Ronin-S allows you to use a suite of automated features within the DJI Ronin app for even more creativity. This includes a Panorama function, the ability to create a Motionlapse or Timelapse and a Track function that enables you to set a repeatable path for the gimbal to move while recording video, which lets you perform your scene exactly how you planned to.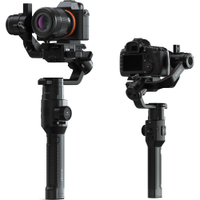 DJI Ronin-S: $499 from $749
Pick up the DJI Ronin-S gimbal stabilizer for just $399, down from its original price of $559. This is an incredible saving of $160 – which is almost 30% off its original price.
Read more
Best gimbals for your iPhone, GoPro, mirrorless camera or DSLR in 2020
Best pro video accessories in 2020
Best on-camera monitors: external screens and video recorders for filmmakers