Over recent years, Fujifilm has changed the landscape of digital medium format photography. It has made digital medium format photography a more accessible and viable option for both professional and amateur photographers.
The Fujifilm GFX 50S II was the camera responsible for prizing away my much-loved mirrored DSLR. I haven't looked back since, becoming a true convert to digital medium format and mirrorless systems. It has been fantastic for my work as a stills photographer, but as the commercial photographic world has changed (for the most part) into one that also requires video, the 50S II fell short of my video needs. Just as I found myself with a choice to make, Fujifilm announced the GFX100 II – and it may have just alleviated my problem.
• Check out our verdict in our hands-on Fujifilm GFX100 II review
With the GFX 100 II set to be released later this month, I was very interested in learning more and finding out if it could be a viable and respectable hybrid camera. Working as a freelance photographer, I often need to capture both stills and video on the fly – and this request has become more frequent, with the need for short-form social media content. If the GFX system can match its video performance to its image quality, it is set to become a powerhouse of hybrid shooting.
The specifications show vast improvements for both stills and video. Headlining is the new 102MP backside-illuminated CMOS medium format sensor, a much faster variant of the one used in the original Fujifilm GFX 100 and the Fujifilm GFX 100S. Combined with the X-Processor 5 engine, the GFX100 II can achieve a high continuous frame rate of up to 8fps, extremely accurate AF, and advanced video features that have never existed in any previous GFX System.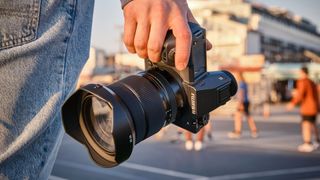 An autofocus upgrade, built by deep learning AI technology, enables accurate motion tracking and subject detection for not just human faces and eyes, but also high-speed subjects such as animals, vehicles and sports. This upgrade will vastly improve stills and video capabilities, and deliver fast and reliable AF prediction – an area where my GFX 50S II needed improvement.
Another much-appreciated upgrade is the increased buffer memory, providing less buffering time and eliminating the need to wait after shots. Blackout time has been a source of frustration with my use of the 50S II, especially when working quickly in a fast-paced studio setting. A blackout-free 5.3fps burst rate will be an appreciated update to my workflow.
Other notable video advantages include the ability to record directly to an SSD, a vast improvement to image stabilization (up to 8 stops), and the ability to record in F-Log2. The GFX100 II is the first GFX System camera to feature F-Log2, facilitating a more in-depth and detailed post-production process.
With the long list of improvements to the video capabilities, it is impossible not to consider the Fujifilm GFX 100 II as an advancement in hybrid shooting. The noted upgrades from its predecessors will improve both performance and user experience, especially in the video department. I am excited to test how it performs in my workflow and see if the upgrades fulfill my need for a new hybrid camera.
See how the GFX 100 II fares against the best medium format cameras. If you're a GFX shooter, make sure to take a look at the best Fujifilm GF lenses too.