Canon have built a pretty impressive lens lineup around the new RF mount in just a few short years, but as we come up to the 5th birthday of the first Canon EOS R camera in October later this year, we are taking a look at some of the Canon lenses from the DSLR era EF mount that are just calling out for an RF version.
This is not a comprehensive list, Canon made so many wonderful lenses for the EF mount that have not yet made it over to the RF mount that it would take me days to type up. I have judged these lenses on what I think people want, if there really is a need in the market, and on how likely it is Canon would ever actually make the lens.
1. Canon EF 50mm f/1.4 USM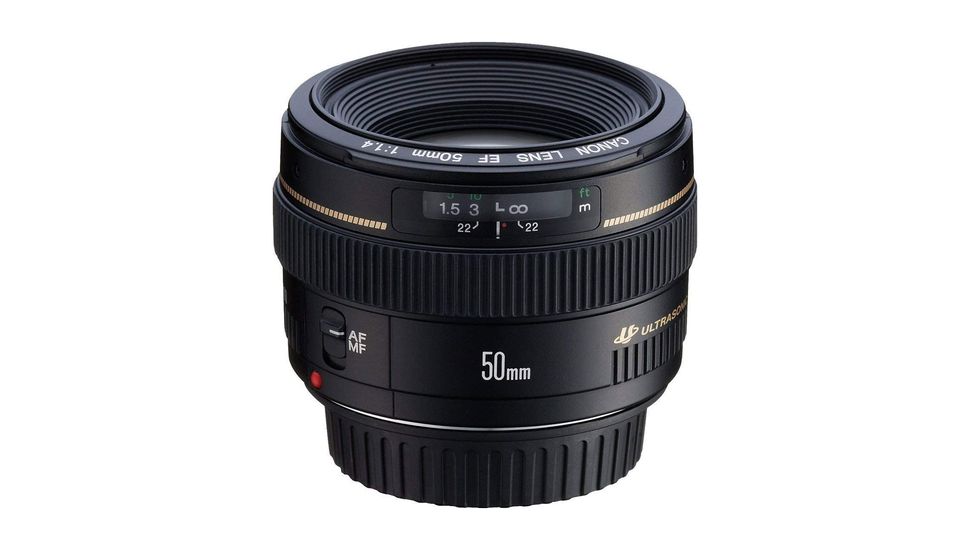 The Canon EF 50mm f/1.4 USM is one of the most successful Canon lenses ever, and for good reason, it is incredibly small, packs in a very wide f/1.4 aperture, and has decent (although not top-notch) image quality that still holds up today with modern digital sensors. The best thing about this lens was that it didn't cost the earth, and for that reason, you'll find that most Canon photographers at some point had this in their kit bag. This would be the perfect lens to climb up the lens ladder between the rungs of the cheap and cheerful Canon RF f/1.8 STM and the huge expensive beast of the Canon RF f/1.2L USM lens.
It is criminal that Canon has not remade this lens for the RF mount as I am sure people would queue around the block. The lens could stand to have a bit of an optical update to better control chromatic aberrations and have sharper images, two major complaints about the existing version, but if it holds onto the charms of the small affordable wide aperture lens that came before, then I am convinced it will be a winner.
2. Canon EF 35mm f/1.4L II USM
There were a lot of L-series prime lenses to choose from for this list as that seems to be the last area Canon wants to tackle for the RF mount, especially down at the wider end of the focal range. I chose the Canon EF 35mm f/1.4L II USM as it would be my personal preference, although this could easily be substituted by many for the Canon EF 24mm f/1.4L II USM.
The EF 35mm f/1.4L is a hugely popular lens for pro Canon shooters who work in a number of areas, from travel and street photography, to fashion photography and landscapes, a 35mm focal length is incredibly versatile. And the EF 35mm f/1.4L was very good, with some incredible optical performance, and with the precedent of RF lenses so far, this is only likely to be improved with sharper images for larger megapixel sensors and new elements to decrease flaws. The only downside, judging on L-series lenses that have already made the jump to RF, we can probably expect the price to skyrocket.
3. Canon EF 100mm f/2.8 Macro USM
Canon already has a magnificent macro lens for the RF mount with the Canon RF 100mm f/2.8L Macro IS USM, however, this lens is not priced for the casual macro enthusiast. This is where the original Canon EF 100mm f/2.8 Macro USM was perfect, by taking out the image stabilization and having a slightly less clinically perfect quality, the EF 100mm managed to come in at a much more wallet-friendly price. There are a couple of RF prime lenses that offer a half-macro size (0.5x), but you really can't beat a true 1:1 macro lens for close-up work, and currently, price conscious Canon RF shooters don't have an option (with autofocus anyway). This is something that Canon should look to change soon.
4. Canon EF 8-15mm f/4 L USM Fisheye
Fisheye lenses can be divisive, some people love the fun effects, while others think they can look a little tacky. Wherever you stand on the debate, there is no arguing that there is a market for fisheye lenses, and so far Canon has not offered up one for its RF mount. Fisheye lenses are often left up to third-party manufacturers to make on the cheap, but with the EF 8-15mm f/4 L Fisheye USM, Canon entered a truly compelling option for anybody serious about the fisheye perspective and also image quality. A new version for the RF mount could be a really interesting proposition, especially if Canon could put a new spin on it.
Although, just any lens at the ultra-wide-angle would be very welcome from Canon, the Canon EF 11-24mm f/4 L USM also narrowly missed a title spot on this list, with the current widest focal length possible on the RF being 16mm, there is a real hole in Canon's lineup for anybody hoping to shoot extreme wide angles without having to resort to panoramic photo stitching.
5. Canon MP-E 65mm f/2.8 1-5x Macro
Okay, so two niche macro lenses on this list but only one regular prime, I don't care, it's my list. The Canon MP-E 65mm f/2.8 1-5x Macro is such a specialist tool only for those who really care about the ultimate quality in macro photography, but that is also what makes it so great.
There are very few lenses out there like this, and for good reason, the overwhelming majority of photographers will never need this lens, but for those that do, the wondrous images that 5x macro lenses can take are just incredible. And with modern technology such as automatic focus stacking, or the new IBIS High-Resolution Shot in the Canon EOS R5 producing 400MP images, the potential for a lens of this type is really exciting and I really hope Canon makes another version of this discontinued EF gem.
Find out more about the best Canon lenses, and the best Canon cameras in our guides. If you are interested in macro photography then you can find our tips to master macro photography with your Canon camera.