The Sony Xperia Pro makes an assumption – photographers and videographers are experiencing stuff overload. It's not uncommon for kit bags to weigh in excess of five or 10 kilos and include 10 or more separate bits, so any space and weight saved is welcome, surely. We're definitely not going to argue with that logic, but how much multifunction can a smartphone really add to your imaging?
As much as we wish Sony found a way of shrinking lenses with no loss in quality, that's not what the Xperia Pro does. Instead, this niche flagship smartphone combines premium 5G mobile specs with external monitor functionality.
By way of a micro HDMI port that sits at the base of the phone, the Xperia Pro's 10-bit 6.5-inch OLED screen, complete with astoundingly high resolution and a convenient 21:9 aspect ratio, acts as a viewfinder. In turn, with one of these and a camera like the Sony A7s III, matched with a grip that hooks up via the hot-shoe mount, you can enjoy a live preview of what you're shooting that's in a different league to any camera's flip-out screen.
The Xperia Pro's flex doesn't stop there, especially if you're a livestream producer. The phone's body has been designed with 5G in mind, switching out glass and metal for plastic to ensure better 5G signal. There are also under the hood changes including repositioned antennas and more. No other phone does what the Xperia Pro does, and thanks to its 5G might, it's more of a three-in-one than a two-in-one. There's no doubt – this is excellent multifunction, but it's also expensive multifunction.
Costing $2,499.99/£2,299, the price of this phone immediately hurtles the Xperia Pro to niche territory – so if you're an enthusiast or pro, and are thinking about picking up Sony's unique imaging accessory-cum-flagship handset, we've pulled together this set of questions and answers after our fortnight with the phone.
• Read more: Sony Xperia Pro review
Xperia Pro 5G streaming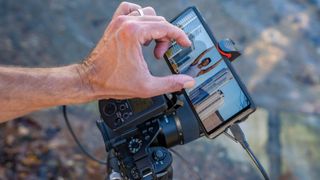 1. Why would you use a 5G phone for streaming?
In our tests, a 5G SIM card produced upload speeds of between 30-40Mbps, versus 7-10Mbps at 4G speeds. This was using the same UK network (EE) in an area with strong 4G and 5G signal.
2. Is the Xperia Pro's 5G faster than other phones?
In our tests, the Xperia Pro averaged both faster 4G and 5G download speeds than the Samsung Galaxy S21 Ultra and Xperia 1 III.
3. Is the Xperia Pro better than other 5G phones for streaming?
Unlike most phones, which have antennas on two or three sides, the Xperia Pro features antennas on all four sides, so whether you're holding it or mounting it, the phone has the best chance possible of getting great reception. In our time with the phone in a 5G area in London, we had no connectivity issues, never experiencing 5G drop out. While the additional antennas won't always necessarily result in faster speeds than other premium 5G phones, according to Sony, the Xperia Pro delivers a more consistently strong signal, which is beneficial for smooth live streaming. Additionally, as covered in a later question, the phone's glass and metal-free exterior ensure it has the best chance of acquiring optimum signal strength.
4. What streaming platforms are natively supported?
YouTube is supported natively when using the Xperia Pro as an external monitor. It supports live streaming at up to 4K resolution through the YouTube application. For services like Facebook Live or Twitch, a third-party application like Stream Labs will need to be used.
5. Why not just stream from your phone?
With cameras like the Blackmagic Pocket Cinema Camera 4K, Canon EOS R6 and Sony A7S III and Sony FX3 all sporting HDMI output, streaming from the Xperia Pro delivers significantly higher-quality footage than that captured on any smartphone, together with far more flexibility around lenses and audio.
6. Who's the Xperia Pro for?
On-location videographers who anticipate the need for livestreaming, and know they will have strong mobile signal wherever their shoot is planned, will benefit greatly from a device like the Xperia Pro.
7. Does the Xperia Pro livestream over 4G?
Yes, the Xperia Pro can comfortably stream at Full HD over a strong 4G signal.
8. Do you need to match the Xperia Pro with a Sony camera to livestream?
No, the Xperia Pro can livestream over YouTube with any camera that supports HDMI output. For additional live streaming services, the camera needs livestreaming capabilities and can connect to the internet using the Xperia Pro's 5G connectivity.
Sony Xperia Pro hardware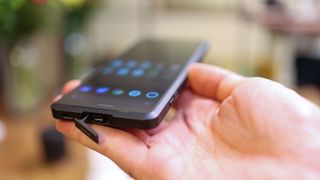 9. Why does the Xperia Pro not use a single USB-C port for data and video?
The separate USB-C port and micro HDMI port enable the Xperia Pro to charge and ingest footage simultaneously. Additionally, it also guarantees the highest quality feed.
10. The power button is low on the right side and criticized in reviews. Is this a dealbreaker?
When the Xperia Pro is mounted on a grip in landscape orientation, the power button is in a great position as it isn't covered up by any mounting equipment. When being used as a phone, however, it is low, and takes some getting used to, especially given the fact it doubles up as the phone's fingerprint scanner. If you are picking up the Xperia Pro primarily as a personal phone, it might be a consideration that works against it.
11. Why is the Xperia Pro made out of plastic, not glass and metal like the lower-cost Xperia 1 II?
Glass and metal may make phones feel fancier, but they don't deliver the very best mobile signal – especially metal. Additionally, for a phone designed for imaging professionals, glass elements are another point of weakness. While plastic does damage, the Xperia Pro is finished with a similar aesthetic to Sony's plastic cameras, which have a textured surface to minimize visible wear while providing sufficient grip.
12. What does the Xperia Pro offer compared to the Xperia 1 II, which costs over £1,200 less?
The Xperia Pro features four times the storage of the base capacity Xperia 1 II (512GB versus 128GB), so it can be used as a backup hard disk in a pinch (with the right dongle). It also features 12GB RAM versus a starting capacity of 8GB, as well as more antennas for better mobile signal. The body has been redesigned to be hardier and, in turn, it's slightly thicker, taller and wider. One omission on the Xperia Pro's spec roster, though, is wireless charging.
XPeria Pro as a monitor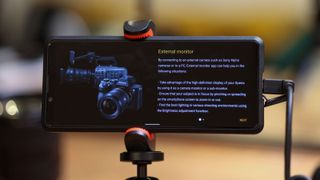 13. What kit do I need to set up my Xperia Pro as an external monitor?
You will need a grip to hold the phone, and a cold shoe attachment to connect it to the mount. If you want greater articulation, a tripod ball and socket head like the Manfrotto MH492-BH would be a worthwhile addition. Of course, you will also need a micro HDMI cable that can connect the phone to your camera. In select regions, the phone ships with the accessories to connect it to a camera, so be sure to check with retailers before picking up a separate mounting kit.
14. Does the Xperia Pro support external recording?
Not in the sense of recording camera footage, as captured, over HDMI. The Xperia Pro does support screen recording, a feature native to Android. However, this caps at Full HD resolution, so the phone does not directly record footage at the attached camera's native resolution or aspect ratio. Given the 21:9 screen of the Sony phone, the screen recording will share its aspect ratio, so if you intend to use recorded 16:9 footage it will need to be cropped in the edit phase. Sony has suggested it is looking into offering native external recording in the future.
15. What are the Xperia Pro monitor functions?
• The Xperia Pro either mirrors the display of your camera or, if a clean HDMI feed is supported, showcases the video channel without any display overlays.
• Within the phone, there are options to overlay gridlines (rule of thirds, square, or diagonal and square), frame lines (1:1, 4:3, 13:9, 14:9, 15:9, 1:66:1:85:1, or 2:35:1).
• The phone also features control over the display resolution (original, up to 1080p, or up to 720p), colour space and HDR settings (BT.2020, BT.2020 HLG, BT2020 HDR10, BT.709, BT.709 HLG).
• Interaction with the Xperia Pro is intuitive, with a double tap giving you a magnification of two times by default, though this can be adjusted to three or four times magnification.
• Finally, in the top left of the live preview, battery percentage, resolution, frame rate and colour space indicators are displayed.
16. Why buy the Xperia Pro over a monitor like the Atomos Ninja V, for example?
Space saving is the primary reason to opt for an Xperia Pro as opposed to a regular external monitor. The display quality is also very high, with strong colour reproduction from the OLED technology, 10-bit HDR visuals and strong peak brightness.
17. Is the Xperia Pro a photography or videography accessory?
The Xperia Pro can benefit both photography and videography, especially when matched with a camera that doesn't feature an EVF or an adequate screen.
18. Can the Xperia Pro control a Sony camera's UI through touch control when connected via HDMI?
No, the Xperia Pro monitor doesn't extend to support touch input for the interface of the camera, even on the new A7S III and FX3, whose screens support touch interaction.
19. How long does it take to set up the Xperia pro as a monitor?
Seconds. The Xperia Pro is a fantastically plug-and-play solution, and is simpler to use as an external monitor than any standalone monitor we've tested, though it also lacks some of the advanced functionality, like focus peaking etc (which may be available natively on your camera). Just plug it in, open the External Monitor app and you're good to start filming.
20. What would an alternative DIY setup cost with a different phone and an external monitor?
With some of the best camera phones like the OnePlus 9 Pro coming in at under £900 ($1,250 approximately), and an external monitor like the Ninja 5 costing under £500 ($680), matched with a 500GB Samsung SSD costing around £70 ($100), if you can handle a few extra items in your kit bag, you'll be saving around £600-700 ($830-970) buying everything separately. Additionally, until the Xperia Pro gets a native 4K recording option, the Atomos Ninja 5 also doubles up as an external recorder when matched with a hard disk.
Sony Xperia Pro for FTP transfer
21. What is file transfer protocol (FTP) and who would need it?
FTP uploading is a means of sending files (photos and videos) to a server so that multiple people can access it. Think of it like a pre-Google Drive/Microsoft OneDrive file storage solution anyone with the right access details and an internet connection can access. This makes it great for sports photographers who need all their shots backed up fast, and automatically so someone else can sift through them and get editing.
22. Is an FTP server easy to set up?
There are countless ways to set up an FTP server. Whether you opt for a solution managed by third parties, create your own FTP server using an old computer and hard drive, or use your website hosting solution as an FTP server, you have options. While setting up an FTP isn't hard per se, it isn't always intuitive, and you will need to research the best solution for you and your workflow.
23. Can you use FTP transfer with any camera?
No, you can't use the FTP functionality directly from cameras that don't support it. However, with Sony's Transfer and Tagging app, available from the Google Play Store, the feature is available for many Sony cameras. Additionally, cameras like the A7S III and FX3 support FTP access within the camera.
24. Can the Xperia Pro support an FTP workflow?
Yes. If your camera supports FTP uploads, then connecting it to the Xperia Pro's 5G wireless hotspot, or enabling USB-tethering will enable on-the-fly backups for sports photographers and other on-location camera operators, using platforms like Sony CI Media Cloud, or your own FTP server. Once connected to the Xperia Pro's internet, it's simply a case of setting up the FTP upload on your camera. Additionally, Sony's Transfer and Tag app means that setup can be done on a smartphone, though this is not exclusive to the Xperia Pro.
25. How do I enable USB-tethering on the Xperia Pro for optimum 5G FTP uploads?
In the Xperia Pro UI, open the phone's settings, select Network and Internet, followed by Hotspot and Tethering. Here, you can toggle USB-tethering on.
26. What's the benefit of FTP support on the Xperia Pro over other smartphones?
The Xperia Pro is a well oiled 5G machine. With faster uploads, you'll spend less time waiting for your photos and videos to be transferred to the FTP server.
27. Is it really realistic to transfer high resolution stills and 4K footage over 5G?
It's definitely realistic to transfer stills over 5G. With an upload speed of 40Mbps in our tests, even without reaching peak 5G speeds as quoted by networks, the Xperia Pro would be able to upload over 45 RAW images shot on the A7 III in a minute. Footage would take significantly longer, with a six second recording in 4K from the A7S III. Weighing around 100MB, a one minute clip would take between three to four minutes to upload, and 15 minutes of footage nearer an hour.
28. Is there a size limit to FTP uploads?
The FTP owner sets limits on transfer sizes, so if you're uploading to your own FTP server, then you can enjoy uploads that are only limited by the amount of storage on the server.
29. What if my camera doesn't natively support FTP uploads and there isn't an equivalent app that does what Sony's Transfer and Tagging does?
The manual way to upload to an FTP is more convoluted than the elegant in-camera option Sony provides, and involves uploading content through an Android FTP app on the Xperia Pro such as AndFTP. It will also require you manually transfer your photos or video from the camera's storage card to your phone first. To do this, you will either have to set up a wireless transfer through your camera manufacturer's app on your phone, or you will need a memory card reader USB-C dongle. When plugged into your smartphone, you can transfer the content from the connected memory card to the Xperia Pro, and through the FTP app, it can be uploaded to a server.
Sony Xperia Pro conclusions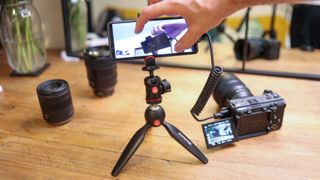 Ultimately, the Xperia Pro is a very interesting device. It costs a huge amount of money, but so does everything that has anything to do with Sony's cinema line, and pro-grade video in general.
With no other manufacturer offering a smartphone with HDMI input, let alone one with all the pro-grade features the Xperia Pro packs, the appeal for photographers and videographers is self explanatory, especially true for livestreaming content creators.
As for whether it's worth it, only you can say, but we can, at the very least confirm, as with most things Sony makes, the phone does indeed do what it says on the tin, and we can't argue with its quality.
Read more:
• Best camera phones
• Best vlogging cameras
• Best external monitors
• Best video accessories
• Best Sony cameras